Tim Hulse
Club Chairman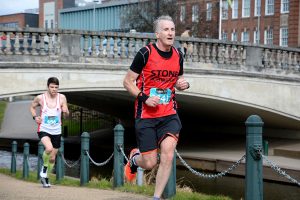 I was elected Chair of our Club in April 2015 and I'm responsible for overseeing our Club as a whole together with the Committee. My role is to help develop our Club in a progressive and positive manner with three broad aims; competitive, inclusive and camaraderie. Running wise my preference is now the longer distances and I have PB's of 3:09 (Chester Marathon in 2012) and 1:23 (Stafford Half Marathon in 2016). As Chair I'm motivated to achieve PB's in all areas for our Club (see 3 aims above), and am happy to help members achieve individual PB's. Feel free to talk to me anytime (on a run or in the bar after is ideal) about ideas and how we can continue to improve our Club.
---
Bernie Priekulis
Captain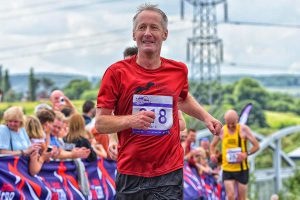 I joined SMM in 1995, having previously been a member of NSRRA.  My first road race was the Potts Marathon in 1989, 2 of us pushing a lad in a wheelchair round the course.  I've always preferred the longer runs and hope to complete 100 road Marathons within a couple of years.   My favourite Marathon is the Luberon in Provence and my least favourite, the last one in Lisbon.  Regrets?  Should have tried to sneak a few more Marathons in when I was younger and fitter.
After 20 years, I felt that it was my turn to raise my game and put something back into our Club, having had such great times as a member. I've always taken great pride in any organisation that I've been involved in and felt that more recently, our Club was under-achieving and not supporting those who wished to run more competitively.  My single aim as Captain is to put in place the framework that will help more of you to run for our Club, in whatever competitive race you choose.  It goes without saying that running has got to have a fun element or I'm gone!
I've been around a bit now and don't see my PB's of 3.05 at London and 1.23 at Lake Vyrnwy being under threat.  My challenge is to get you to fulfil your own potential and in doing so, raise the profile of The Bats, locally and further afield (European Marathon, anyone?)
---
Tom Johnson
Treasurer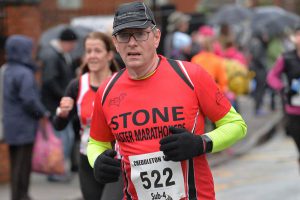 My role is to ensure the Club's finances are kept in order, negotiating costs, paying bills, banking cheques, producing annual accounts and financial reports, and advising on spending strategies.
I have been a member of SMM now for 6 years and have been Treasurer for 4 of those. When not inhibited by a persistent ankle injury and work commitments I favour the longer distance running (Marathons) and I have averaged 3 a year in various places around Europe, something I didn't think I was capable of until joining the Club.
You will usually find me at most Club events helping out Brian with the marshalling or counting the money from on the day entrants.
---
Brian Hall
Race Committee Co-ordinator and Chief Race Marshal and Acting Club Secretary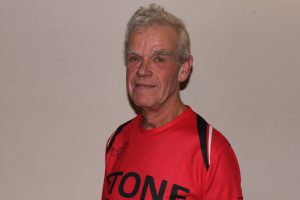 Helping to promote our Race events in a professional, safe and profitable manner.
Having reached the age where running competitively is no longer a serious option, I get tremendous satisfaction from putting back into the sport which we all love, whilst still enjoying the camaraderie and friendships which I have built up over the years since 1987 when I first joined the Club. Most of my interests are based on outdoor activities and there cannot be many better areas for running or walking than in the countryside around Stone, and our races are a showcase for this.
---
Paul Phillips
Vice-Captain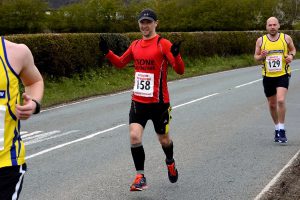 Hi, I'm Paul, Vice-Captain – my main role is to support Bernie with Club runs and races and encouraging members to enjoy their running but I am also responsible for the social media aspect of the Club and updating the website with results. I enjoy racing and run many of the NSRRA races representing the Club. My first ever marathon was in 2015(Potteries 3.48) and a half marathon PB in the same year of 1.39. All other shorter distance races in 2015 were PB's – largely due to the support from my Club colleagues.
---
Julie Boulton
Membership Secretary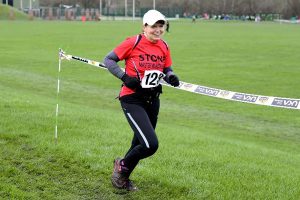 We currently have over 100 members and over the past few months we've gained an average of 4 new members per month, so it's keeping me busy.
I joined 'Stone Master Marathoners' in January 2009 after entering the Stafford Half Marathon following a few glasses of wine over Christmas. The only reason I entered was because my son and brother had a bet that I wouldn't get round. I completed the Stafford Half in 2:18 in 2009, and I've been running ever since. I've seen some amazing countryside and made lots of wonderful friends, and in 2015 completed the Stafford Half in less than 2 hours (1:57).
Do not hesitate to contact me if you have any queries regarding SMM membership, England Athletics registration, or if you change your contact details.
---
Anne Griffiths
Kit Shop Manager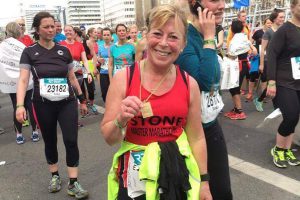 I have been a running leader since 2014 and I work closely with the Thursday evening beginners group. I also run the kit shop.
Being a running leader means that I have been able to see many beginners join the Club (often slightly nervous and uncertain as to why they are there!) and progress into enthusiastic and competent runners. I joined SMM as a complete novice and the opportunity to run with dedicated, passionate runners inspired me to take on a running leader role so that I too could encourage others to join this wonderful little community.
---
Julie Ebrey
Social Secretary
I love the social element of our Club. I feel that this is the glue that bonds us together and as Social Secretary I feel that it is my duty to make sure that we have a social calendar that supports all our fabulous achievements and also allows us to let our hair down a little. Over my 4 years with our Club I have made some wonderful friends, whom I never would have met had I not become a Master Marathoner. Not only can we make our members proficient in achieving 'their running goals', but also allow them to forge strong and lasting friendships.
My running accolade was that I ran the London Marathon for Charity and without the Club behind me could not have done that. More ordinarily I love the off road element of our Club, and feel at home doing a Half Marathon.
---
Malcolm MacKinnon
Leader in Running Fitness-Beginner's group
After 20yrs not running I returned as a jogger and found fun, fitness and camaraderie. The Beginner's group sets out to encourage anyone who wants to get fit, lose weight or train to compete. There are a number of leaders and the group is friendly and supportive. If you can only run 100 metres or already run 5-10K you will be welcome. We meet at Stone Tennis Club at 6:15pm every Thursday. All welcome. See you then!
---
Marian Humphreys
Vice Captain – Beginner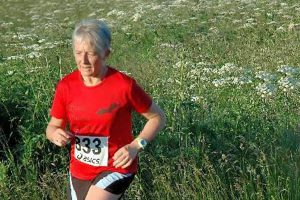 Coming Soon!
Coming Soon!
Coming Soon!
Coming Soon!
Coming Soon!
Coming Soon!
Coming Soon!
---
Emma Dutton
Communications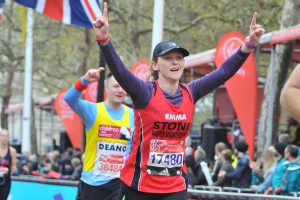 I still remember the day I met a friend to train for a Race For Life 5k and had to walk half of it! Wanting to improve my running, I joined SMM in 2015 and am a 'graduate' of the Thursday Beginners group. My proudest achievement is completing the London Marathon in 2016, raising over £1500 for Dougie Mac in the process. I'm nothing special as a runner and proof positive that anyone can achieve something if they set their mind to it.
My role at the club is helping to generally promote us and our races, something made much easier by the fantastic community of Bats around me. If you have ideas or suggestions on how you can help us spread the word, drop me a line!
---
Kathryn Ambrose
Mental Health Ambassador (non-committee)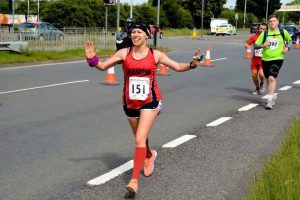 I started running about 15 years ago, when I got over my fear of treadmills (I fell off one once in school!) during a gym session when it seemed that no other piece of equipment could wear me out! That said, I couldn't run for a bus when I started ? I soon ventured outside and entered my first 10k not long afterwards, finishing in 69 minutes. I carried on running (waddling) through two pregnancies but it wasn't until after I had my little girl three years ago that I really upped my mileage. I started running with her in the buggy, as well as rejoining my club at the time, Trentham. Although I will probably never be super speedy, I do seem to have the ability to run forever, which has led me to complete eight ultras in the last two years. I joined the Bats in April 2016 when I knew we were moving to Stone, and I've never looked back! It's a super friendly and inclusive club, which has something for all abilities and backgrounds.
My role as Mental Health Ambassador is designed to initiate and support current members to talk about good mental health (no stigma!) by promoting a safe and non-judgemental environment. Through outreach work in the community and organised events, I aim to promote the work of SMM and gain new members who may find running helpful in overcoming mental illness.