English Half Marathon Race Report
Fiona Bradley
Running the English Half last year was a real highlight of my running calendar – after completing my first marathon in July and training for the next in December, I was feeling pretty fit. Emma Phillips told me about the fast course and it really didn't disappoint. I started (ambitiously) with the 1'45 pacers but at Mile 9 felt strong enough to push on and I finished with a massive PB in a time of 1'40'58. Signing up for the 2017 race was a cert!
Feeling the benefits of JC's Speed Sessions, Amy's Hill Work and plenty of advice from numerous bats, I approached this year's race feeling hopeful that I might beat my PB and when Mr Speedy, Ryan, offered to pace me, I eventually agreed (I still suffer with the worry of letting people down so had a few wobbles before the race itself)!
During the build-up to the race, I made sure I ate healthily and avoided alcohol (yes, even Prosecco) and stuck to my training plan. It had been really hard to resist running the Stoke 10k the day after Ipstones 5 but after seeing Ben's face when I mentioned it during my sports massage and a stern word from Ryan, I decided to take advice and save myself for the EHM. For me, the biggest challenge I face with running isn't physical it's mental – the number of times I have decided I am never running again, during a race, is plentiful!
On the day of the race, Ryan insisted we left at 3am…okay, I exaggerate, 6.45am, as he was concerned we might miss the 9am start… I was instructed to provide porridge as part of the pacing contract and was then told off when it wasn't ready – at 6.30am!! Needless to say, we arrived in good time to pick up Ryan's number from the Race Information point.
The start and finish point of the EHM is a fantastic place where there are myriad stalls for everything from Sportswear to Ultra races to Bacon baps (cue the arrival of new bat, Jonny Bibb stuffing his face with one)! The location has a really good vibe where everyone congregates before and after the races – there is a 10k which starts at the same time and a mile run which takes place at around 12.45pm. Those liking their race bling will not be disappointed as the more races you sign up for (including a 5k on the Friday night), the more medals you receive. The Half Marathon medal is amazing – complete with magnetic opening gates representing the golden gates at the location!
After a chat with Jonny, quite a few Stoke Fitties and a photo with Emma P, it was time for the race to begin. Realising I had left my energy gels in the car, I had a slight panic but Ryan kindly ran back to the car to collect all five…(I had failed to inform him that I only wanted one)! The queue for the toilets failed to move for around twenty minutes so I reluctantly headed to the start without going!
The start was delayed until 9.15am but we eventually got underway in the mission to get me a sub 1'40 PB! I was told not to look at my watch so I gladly didn't – bizarrely the first four miles absolutely flew by. The start was slightly more uphill than I remembered but nothing too Meerbrookish. One highlight was when Ryan was busy telling me off for not having a drink at Mile 3 and almost trod on a squirrel – that would have ended my race there and then with hysterics! We found ourselves behind the official 1'40 pacer who had initially gone off slightly quicker than he should have and it was slightly unnerving to see the fair-sized group pulling away from us as we ran the first 7 or so miles. Ryan remained calm so I didn't worry – he'd passed his trial(!) where he paced me on two training runs to the absolute second every mile, so I had every confidence in him – I just hoped I could keep up!
After starting on roads through the town, the race heads off onto a few closed country lanes; there is a switch back section which is actually quite nice to see other runners and it was here that we spotted Jonny hot on our heels! The water stations were very good, providing Lucozade, energy gels etc and there were many friendly spectators handing out jelly babies and high 5s! We constantly heard 'Come on Batman' and weren't quite sure why until we saw that we were being followed by Batman himself! Unfortunately for him, we real bats flew off and he was left looking pretty exhausted for his last few miles…
Just before Mile 10 we came back over the bridge towards the town centre and it felt great overtaking the 1'40 pacer and his diminished group. A man turned and asked how far we'd ran and wasn't overly impressed at Ryan's response of: '9.92….or is it?'! The fact he wasn't remotely out of breath or sweating was probably annoying for everyone!
I felt pretty good until around the 11.5 mile mark. Ryan had told me we'd be kicking in at this point and I think I'd psyched myself up to thinking I couldn't do it! Apparently, my breathing went to pot and I was told firmly to 'Breathe through (my) nose!' I was beyond following any instruction and continued to pant like a dog, so I'm told! And for the first time, I wanted to look at my watch to see that there wasn't far to go.
Returning to town must be quite misleading for those not wearing a watch or observing mile markers as you are so close to the finish but the course winds around so that you run through the stadium. I loved that part as there were drummers, spectators on the terraces and the end was near! Ryan was pulling away a bit and I had to dig deep to find the energy to keep up – I know that had I been on my own, this would have been the point where I may have eased off a bit but this was not an option with Bossy leading me!
With my eye now firmly on the mileage (not on the clock), I enjoyed my usual trick of counting down how long it would be before I could stop but still felt the urge to say I needed to stop(!) Fortunately, I didn't have the breath, so we plodded on! Andy Pemberton from Stoke Fit enjoyed coming alongside us and saying, 'Come on Bradders' as he loves beating me!! With one final 'sprint' (possibly more of a canter) we crossed the line and, as an agreed part of the deal, Ryan did his first ever bat arms pose as I had finally achieved my PB! As I literally dragged myself through the finish area, Jonny joined us – the bats had finished within seconds of each other! My official time was 1'38'29 – a massive two and a half minutes off my previous PB – and, most importantly for me, a PB where the minutes started with a thirty and not a forty!!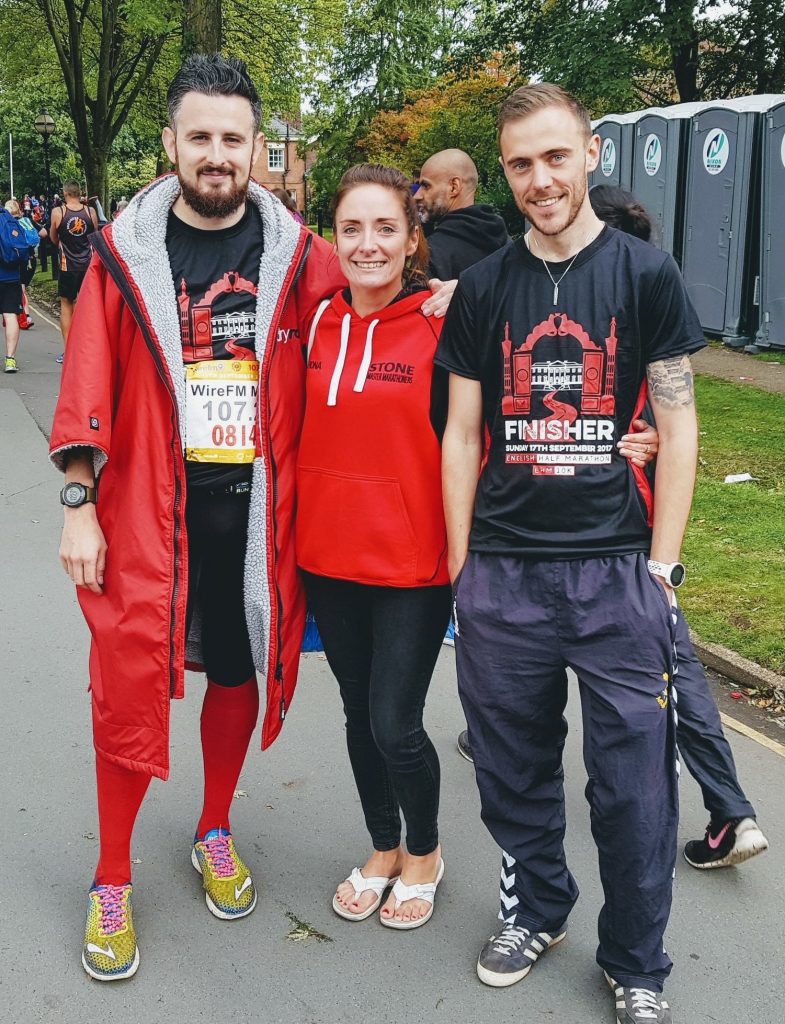 Being part of the Bats means the world to me and this race summed it up perfectly – camaraderie, selflessness and plenty of banter thrown in – Ryan could have done this race at his usual ridiculously fast pace and easily finished in the top ten but he chose to prove to me that I am a bit more capable than I think and pace me to a PB that I was beginning to think was out of reach. Bill Mac started me off on my confidence course to improve and since, I have had the support, encouragement, inspiration and advice from so many of you that a little bit of me actually thinks I can do this. Keep up the great work, you are all amazing! And as for next year, this is a dead cert for Bats on Tour – PBs and Prosecco galore!