How it all began – 43 years ago!
With both wives expecting, Chris Barlow and his friend Bob decided to grab a last minute holiday with them. Following a long drinking session, Bob suggested he'd see Chris in the morning at 8:00 for a run. 7:55 and there was a knock on the door and a "Come on move it". Bob never ran again and Chris never stopped!
Chris decided to join Stone Jogging Club and met Terry Darlington, inspirational runner and, later, founder of Stone Master Marathoners. One of the other members, Peter Bailey, organised a road marathon and this was Chris's first introduction to 26.2 miles…. "I got round, as we say, but my legs would not stop at the finish!"
In 1981 came the first London Marathon and some of the Stone Joggers fancied the challenge, so in 1982, and in those days, you had to post your entry form on the Sunday night. The date and time of posting was actually the criteria for a place and Chris got in. By this time Stone Master Marathoners was firmly established so, together with his friend Martin, they joined the Sunday long run from Stone Hockey Club as guests (20 miles for everyone, with no cut offs!) During his BT career based in Stafford, Chris would also cycle or run to work and back to his home. The training paid off, as he ran an amazing 3:10 on the London Marathon which he later improved on to the all-desired sub 3 hours to 2:58:10.
When he took a new job with BT he started fundraising for Rainbow House Children's Hospice and got his colleagues involved in a 24 hour static bike ride in a shop window! This was followed by a 12 man charity run to London with each person running 10K legs, finishing at The Dorchester where each of the runners met with a family whose child had a life-limiting illness. This experience touched Chris's heart and together with running, he says "it really did change my life". He decided to leave BT, to work for Acorns Children's Hospice Trust in Birmingham and continued to run and fundraise. Events included a 50 mile run from Crewe to Walsall and then another mammoth 100 miler from Nottingham to Walsall via Leicester and Birmingham! He continued to travel all over the Midlands fundraising for the children and their families.
Chris added, "Over the past 10 years, the overseas marathon trips organised by Stone Master Marathoners have been a great opportunity to see other cultures, take part in the marathon and partake in the odd local beer or two".
Achievements
Chris never kept a record of how many marathons he has run, but safe to say, it's around 70, including the Potts Marathon, 23 times and London 13 times!
He is very proud of his achievements and here are some of his personal bests
5 miles  – 28:00 – Bathpool
10 miles – 59:08 – Under an hour round the track
Half Marathon – 78:00 – Madeley Half Marathon
Marathon – 2:58 – London Marathon
Marathon – 3:06 – Potts Marathon
Chris was also in Group E in the North Staffs Road Runners Association and held the record for the best time on the 'Crewe 8', won the group award at 'Newcastle 5' and one year he was 2nd overall in his group.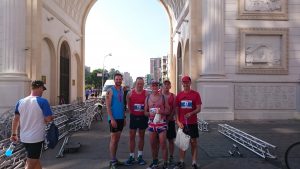 Chris's son was once a big Queen fan and on a trip to Butlins for a Queen convention, he persuaded him to enter a 5K race across the beach. About 40 runners turned up and he found himself at the front with only 2 runners in front, then 1 and he remembers thinking, 'I can have him' and went on to win his first ever race! The prize? A signed photo of Queen (minus Freddie)!
There have only been a couple of low points…..after the Potts Marathon, one year when it was 90 degrees F or more, he ended up on a drip for 2 hours! Another was after finishing the Luberon Marathon, then realising their car was parked another 20 miles away from the finish! Not an ideal cool down after running a marathon!
Chris's advice
Make running fun
Set personal targets
Marathon training must include long runs for endurance
Speed sessions improve your stamina and benefit your training for long or short events
Sign up for some races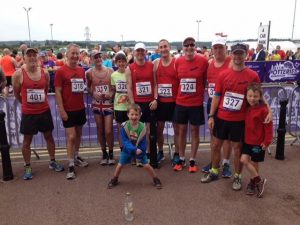 "Being in a running club is a great social experience as well a great way to improve your running. It is so much easier to sustain your running if you run with a group and of course there is the safety aspect for ladies. The club has organised runs to suit all levels of fitness and there is encouragement for everyone. We all know that running is a great way to keep fit and healthy and fitness is a great healer. I proved this after 2 hernia operations, I ran a marathon 3 weeks later".
Chris has been diagnosed with prostrate cancer but remains positive. He says "it is slow growing, I've been advised it could be 10 years before it changes and I believe my fitness and diet will see me through this. I am 70 in 2017 and have no intention of changing my lifestyle which includes a swim every morning and cycling, but my principle love will always be running. It has brought so much happiness in my life".
"Watch this space!"
Chris Barlow and Victoria Hughes