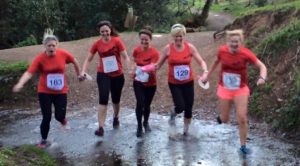 Stone Master Marathoners welcomes runners of all abilities and aims – both competitive and social. We have members who run all distances from 1 mile to over 100 miles.
We recognise, as a club, that people have many different reasons for joining a running club, each as important as the next.
Brand new to running and want the support of experts? As a club Stone Master Marathoners has made a conscious effort to welcome people new or returning to running. We offer introductory 10 week courses that cost just £10 and you'll be safely guided, supported and encouraged by our fantastic running leaders. In no time at all you'll be challenging Mo or Paula… drop us a line to find out when our next course will start.
Signed up to an event or running challenge? Our club members can help you achieve your goal time or distance by tapping into their wealth of knowledge. Need inspiration for a local Race for Life? Got roped into a 10k or half marathon such as Stafford Half or Potters Arf? Taking on your first marathon? No problem; everyone at the club will be happy to support and encourage you while you train… some might even be there on the day to support you round your race!
Want to lose weight? Running is a fantastic way to drop a few pounds. Sure, it'll be tough, but nothing good ever came from sticking in your comfort zone! Step away from the chocolate and get those trainers laced up!
Keen to expand your social circle? Stone  Master Marathoners is a club that actively encourages camaraderie amongst its runner. We meet regularly and enjoy bigger club socials as well as a pint or two (beer or squash) after club runs. You'll be amongst like-minded people who will put a smile on your face (which is exactly what you'll need after a tough speed session!)
Are you an elite runner looking to go further? You'll be amongst top performers, with many of our established members tackling multiple marathons and longer distances in excellent times. We really do cater for all abilities.