Rita Banks is one of Stone Master Marathoners' longest serving members, joining the club in January 1982. It is difficult – maybe nigh on impossible! – to summarise her achievements in a short profile such as this, but some of the highlights ("the bits most people remember", according to Rita) are her 52 marathons in a year, a gold age group medal at the World Games (and overall team gold) and being selected to be an Olympic torchbearer in 2012. To date, Rita has completed 206 marathons, and is planning once again to gain a 'Good for Age' spot at London in the near future – watch this space!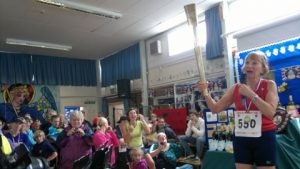 The 52 marathons in a year ranks amongst one of Rita's biggest accomplishments, but she remembers how the logistics were far more complicated than the running itself. In an incredible and exhausting twelve months, she travelled around the world (but regrettably, not Australia, due again to logistics), meeting many friends along the way. This, she says, is one of the highlights of her running career – that it gave her so many friends and experiences that she may not otherwise have had.
Winning the gold medal at the World Games in Turku (Finland) was probably Rita's toughest race – she recalls how she 'semi collapsed' over the line. Coming into the stadium, she found herself in second place, but was aware of the athlete in the lead, wearing turquoise, ahead of her. Digging deep, she pushed for the line and overtook her to take the gold. This, along with the overall team gold, was the pinnacle of Rita's international career, which included numerous outings in an England vest, particularly in cross country.
Running during the 1980s 'boom' and the upsurge of female endurance athletes following the first female Olympic marathon in 1984, Rita says that she "honestly and truly cannot think of any difficulties" when she was running. There may well have been "odd comments", she says, but nothing that
sticks in her mind. She doesn't like to consider herself as being "proud" of her achievements – rather, she enjoyed every minute, and she considers herself very lucky to have made so many wonderful friends, both through Stone MM and other clubs. She cites the NSRRA as vital in getting to know people from other clubs and would encourage anyone to compete, not least because you have the chance to win group and age group prizes. She was also one of the first 'Complete' runners, and still holds five NSRRA age group records (one at half marathon, one at 20 miles, and three at marathon distance. She clocked 4:09 in the 65-69 age bracket!).
Rita's advice to any runner is something that holds true for any area of life, not just running. "Believe in yourself. If you want to do it, you will do it!" I was both enthused and inspired by spending an hour with Rita, and I for one will be taking this advice into my training and races this year and beyond.
– Kathryn Ambrose