Race Report – Tim Hulse
The Chester Marathon has been voted the best UK Marathon for two years running now by Runners World. It's also one of my favourite races, and this year would be my third time running it after missing out last year. I should also declare, to those who don't already know, that my Brother is one of the two co-organisers!
I know first-hand how much hard work goes into organising the race after helping look after the Start / Finish last year, and I know that their reputation is the result of hard work and meticulous preparation (E.G. my briefing pack was over 20 pages!). There is a fantastic bunch of people with highly experienced and dedicated team leaders, marshals and helpers – I believe appx 600 in total!
With my less intensive training regime I'd done about 3 x 20 milers in training and thought I'd be OK to get round in a sensible manner. It's much easier when you're no longer obsessed with the time – it takes the pressure off and makes the running easier.
I arrived the on the morning of the day before to help set up the Start / Finish at the Racecourse, most of the heavy lifting was already done so I had a relatively easy role of putting up appx a mile of MBNA (main sponsor) branding along the racecourse with the help of a few others (including my son Arran age 11). We finished at about 7pm and went to a Steak House restaurant in Chester with the race crew. In the past I'd been obsessed with carb loading before a Marathon mostly on Pasta. There was no pasta on the menu but I wasn't bothered but remember thinking that this would have caused stress in the past!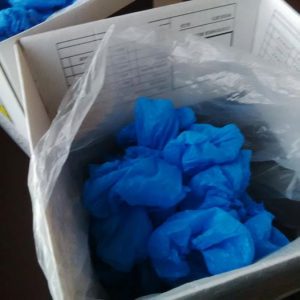 I'd stayed over and as such I was able to avoid starting out at a daft hour – unlike Arran who was out with his uncle and cousins before 6am to help out!  After breakfast (again not the usual pre race menu – just what was available) I set out and drove to the racecourse, thankful that I knew the back route and so avoided much of the race traffic in the City Centre.  The parking was on the grass of the racecourse, at that time of the morning (7:30am) the grass is wet with dew but there were plastic overshoes provided for runners to keep trainers dry (another of my jobs the previous day – unwrapping thousands of these!).
I joined the start pen's about 10 mins before the start and lined up midway in the 3:30hr pen next to Magnus, a friend from Chester Tri. The race started at 9am prompt with just under a mile on the race course itself, after that it was out on a short loop and through the landmarks of Chester City Centre. We started off fine and focussed on keeping to 8mm pace for the first mile while runners streamed past us. After 2-3 miles people seemed to settle into a pace and we started to gradually climb through the field still keeping at a steady pace (7:50mm).
We passed Magnus' wife and friend after appx 3-4 miles in Zone 2 (I know that because Magnus looked after this zone in previous years – and nominated his friend to take over this year!), and then started to enter the countryside in what I learnt was the Duke of Westminster's estate (his houses have a unique brick pattern) – Mangus was an excellent tour guide! We passed the first 10k timing mat a shade under 49mins, so far so good.
As I settled my pace quickened slightly to the low 7:40s as we ran out into North Wales and Magnus took a pit stop and left me to fend for myself. The miles seemed to tick by relatively easily and I continued to pass many runners on a consistent basis. My next landmark was the 12 mile mark where there is a short overlap with the faster runners just over 2 miles ahead. I also knew that Kenny (another from Chester Tri) was looking after this Zone as usual, so looked out for him and it was comforting to see him and get a bit of encouragement. The second 20k timing mat showed just under 48 mins for the second 10k, a bit quicker as I'd expected. After a 2 mile loop at the halfway stage we I passed Kenny again and started to head back towards Chester, so far so good.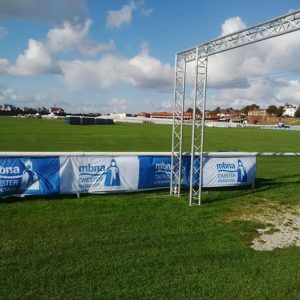 The next focus point was the 30k timing Mat, this is the phase of the race I used to struggle at when racing faster and would usually suddenly tire at the halfway point. The aim was to maintain the consistent pace through the villages of Holt and Farringdon. I'd taken on board a few sips of Lucozade at the earlier drinks stops and had a few jelly babies– all provided by enthusiastic spectators. I didn't bother with Gells during the race (I used to take 4-6 on a Marathon) although Steve Fenney later suggested that maybe I'd have benefited from a couple in the later stages. There was a short hill coming out of Farringdon – where Sparker jumped out on me 2 years ago after riding up to support – but unlike 2 years previously I easily resumed the same flat pace after I got to the top. I managed to maintain a consistent pace in the 7:40mm range and again finished the third 10k in appx 48 mins.
The next focus was the 20 mile mark which came after my fastest mile of the race (7:35mm) on a slight downhill, at this point I passed Andy (co Race Organiser) and appreciated the encouragement. I continued to run well for the next couple of miles, and passed more runners as the Metric Marathon runners (they started an hour later on a different course) joined us for the last few miles, and then started to tire a bit at mile 23 and dropped off to 8:10mm pace. I passed Jan at this stage (wife of Dave, a star of the organising team) and passed a few words of encouragement (we were both tired). At this stage I was focusing on a mile at a time and maintaining the pace and continued to pass runners as I'd done since the early stages. Up ahead at 24.5m was the hill at Sandy lane (notorious on this course) but nothing like what we train on in Stone. However it this stage of a Marathon it's likely to bite. I continued to plug away at 8:10mm pace and got to the hill and steadily climbed – however this year it didn't seem as steep as the last time.
I reached the 40k timing mat tired. The fourth 10k was appx 50 mins,  slower but the wheels were still on. At this stage we were back in Chester and after a short spell on the main road we headed down to the river Dee for the final run in. This is a great section with lots of vocal support – however this stage seemed to go on for longer than it should have. The tiredness and caution at this stage enabled a few runners to pass me for the first time, but I easily resisted the urge to push harder and challenge. Eventually I could see the final bridge after which I knew was the Racecourse and appx 800m to the finish. I maintained the pace and ran back on to the grass of the Racecourse and maintained the 8:10mm pace. As I approached the final 50m I heard my name on the PA – no special treatment, they have a sensors on the home straight to enable the commentators to identify runners from the timing chips.
I headed towards the line and raised the hands in customary manner and crossed the line to be immediately greeted by Arran who handed me my medal. Fantastic.  I managed 3:26:03 which was roughly where I thought I may finish, despite not setting any firm targets.
I went for a quick shower (as quick as it possible after a Marathon) had a pint of Guinness with my nephew (who has now beat my 5k and 10k PB's and is getting close to my HM PB) and used my contacts to get back through to the finish area to watch the runners finish – Arran was still busy with his finish area duties. It was great to watch the finishers, and watching loved ones, as they crossed the line and the array of emotions that followed – a special place to be.
All in all a good run and a great day out for Arran – he had the time of his life helping out. Cheers to the Chester Marathon crew – we'll be back next year.