Well…what a week !
This time last week (about 6 or 7pm Saturday evening), I was just setting off on my 1st leg of 3 at the Thunder Run, what a fantastic event that was and I am sure everyone has seen the rave reviews, pictures and Kathryn's excellent solo report. A few of you will also know that the hug I gave Kathryn wasn't just for her benefit.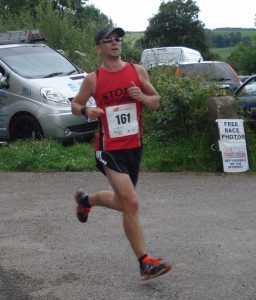 Wednesday saw the unfortunate mix up at the Staffs Knot 5 where we ran and extra ¾ mile and thus not counting as a NSRRA race, I was going to write a report on that one but time and circumstances have been against me this week.
BUT today…the Meerbrook 15K, for those of you who don't know this race, it is as flat as a pancake, superfast and super easy, one that everyone should give it a go next year….sign up before reading on !
However, for those who do know, I may not be telling the whole truth or in fact not even an ounce of truth…..it's a bit hilly and it's on a Saturday morning – it has been noted that Tim Hulse has booked his holiday to coincide with this race the past two years…coincidence?
As I am sure regular readers are now aware myself and Anne Marie like to arrive early and I am glad we did as it was the Leek Show and traffic was busy round the town and we also have a short walk to the race HQ before another short 1km walk back to the start line, making for not a lot of time for chatting, but we did have time for a mile or so warm up to the bottom of Gun Hill in preparation.
As we made our way to the start, we noticed Danny Soltys mingling around the front of the pack and we also had a rare sighting of Jackie Allen doing a NSRRA race….now anyone who knows Jackie knows she is allergic to hills…so why Meerbrook we asked ? Also on the start line was Anne-Marie, Victoria (aka Kathryn), Joyce, Emma, Bonnie and Pippa – at this point I must say…"C'mon Lads….two of us" it might mean I get 49 points in the club championship but we won't be winning any team prizes if we don't up our game (After Trentham it looks like the girls are leading the NSRRA team event).
Anyway, on to the race, my main competition for Group D spoils is Chris Wood from Rugeley and he is running very well at the moment so we chatted at the start and for some reason I told him the profile and best strategy, I should have said go hell for leather for 4 miles and see what happens ! We started at just after 10am and it is quite a congested start and you don't really get into your stride for the first 1km which is a blessing really as it stops you going off to fast, because as you pass the 1km marker you start to climb Gun Hill – I can't put in words how hard this is at the start of the race but it climbs for over 2km and at one point you need crampons !
I worked hard up the hill and passed lots of the D runners who had managed to get a better start but by the top myself and Chris were at the front of D group and I had even passed Pippa (she got her own back don't worry). Waiting just before the top is Bryan Dale, thanks Bryan, it will be interesting to see if Emma gave the double thumbs up at this point (don't let me down Emma).
When you get to the top it is a long gradual and occasionally steep descent for the next 4km or so, however after the climb your legs can't make the most of it straightaway as they are still aching but gradually you get into your stride and make the most of it knowing you have to come back up here shortly. At this point I am still running with Chris and we pretty much pacing each other knowing we have the points in the bag, just a case of who gets the 50.
Although it is a difficult course it is very scenic with very little traffic and only the sound of heavy breathing disturbing the peace, the weather was good with a nice cool breeze and a few drops of rain did threaten briefly but thankfully not for long.
After the water station you drop down again and then a climb starts about 8km and then another climb and more climbs which make Beech feel like a flat track session, maybe an exaggeration but this is around the 10km mark and you have normally finished by now. About 11km I am just in front of Chris and then Pippa comes past looking strong, I feel like I have just been pacing the pair of them because not long after Chris comes past and they open up about 20-30 yards on me.
This is where I need to up my game because in my head I accepted that they were in front and was quite happy to settle for the points there and then, would I have caught them if I tried harder ? Between 12k and 13k you then climb back up to the top of Gun Hill and I did see Pippa have a sneaky walk for a few yards but unfortunately my legs decided enough was enough and I just plodded up the last 1k uphill knowing the downhill was to come.
When you get to the 13k mark the race, as a race is pretty much over because down the hill most people are just going all out and it is difficult to make up any ground. I could see Chris and Pippa just in front but they weren't getting any closer and they crossed the line a few places and about 40 seconds in front of me – I think Chris was panicking it was me in the red vest right behind but he was safe.

I crossed the line in about 71:25 over a couple of minutes faster than last year so I should be happy enough with that but my initial thought was disappointment, someone did say I had done Thunder Run, followed by Staffs Knot and then this so perhaps my legs may have had that extra 30-40 seconds and I shouldn't complain.
The end of this race it is difficult to chat too much because everyone had worked hard and was knackered but had a quick catch up with the regulars and also discussed the race with the Bats. Danny came in a fantastic 4th just missing out on the top 3 by a matter of seconds and Joyce claimed the only silverware for the bats with 1st F65.
All the results are on the website already with 9 of us completing the course. I understand Tim Clegg did attempt to make the start but due to an accident and delays in Leek he came to the start area without his number as not realising so we missed the Usain Bolt finish today.
After the team photo we all made our way off home with no race plans for a couple of weeks so I might have a couple of days off to rest up. Unfortunately, my kids may have other ideas as they dragged me for a walk into Stone Pokemon Hunting although a sneaky pint at the Three Crowns on the way back was well deserved. I am now sitting here with another glass, legs aching and glad this week is over.
Well done today to all the Bats and everyone who 'survived'.