Thunder Run Mixed Pairs.

So the crazy idea of doing Thunder Run as a pair came after last years Solo effort. I managed to do 13 laps by myself in 2017 which considering the very wet weather conditions I was happy with. During a conversation some days afterwards Aggi asked if I would do Solo again next year, jokingly I said no but we can do it as a pair? Aggi, being Aggi, straight away said yes ok….. I did ask on a few occasions before registration open that she was sure? Each time was the same answer… So October came round and the registration window opened, this event sells out in a matter of hours so you have to be quick to secure your place. I sat at my keyboard hitting the F5 button in the minutes leading up to the 10am entry open time. It wasn't long before the queue had opened and it was a waiting game to see if we could get our place. After around 15 minutes the window changed and I was able to secure our place. Brilliant! As TR24 was another 9 months away we didn't really worry about it at this stage as we had Manchester Marathon to train for before this.

Skipping forward to May 2018 and both having a great start to the running calendar. We made a decision to step things up a level, so enlisted the help of Ben Gamble. His training plans and sports treatments really helped us to further improve. We were both running well and felt great. So it was at this point we thought to take TR24 seriously and go for a podium place. With Ben's help we devised a plan of attack, I managed to get hold of the last three years mixed pairs results and found that if we made 20 laps, this would have been a podium spot. So our target naturally became a minimum of 20 laps.

Any endurance event or ultra-marathon needs more than just being able to run for long distances. The nutritional side is a very important factor, but can also easily be overlooked. Get it wrong and you could soon run out of energy and miss out on your target. For this, we looked towards former Thunder Run Solo winner, Janson Heath of INnutrition. Janson was happy to work with us, create our nutritional plans and he even came along with us to TR to make sure we followed his plan. He was so confident with his plan and us that he said we are not going for anything else other than to win.. We knew we were up against last years winners, so it was not going to be an easy task.

As Catton Park is only an hours drive from home, we had already made the decision to pitch the tent on Friday but not stay over for the night. We needed a good nights sleep. We arrived back at camp on the Saturday morning ready to go. I was to take the first lap, there is a bottleneck after around half a mile, if you get there too slowly it can easily cost you some valuable time.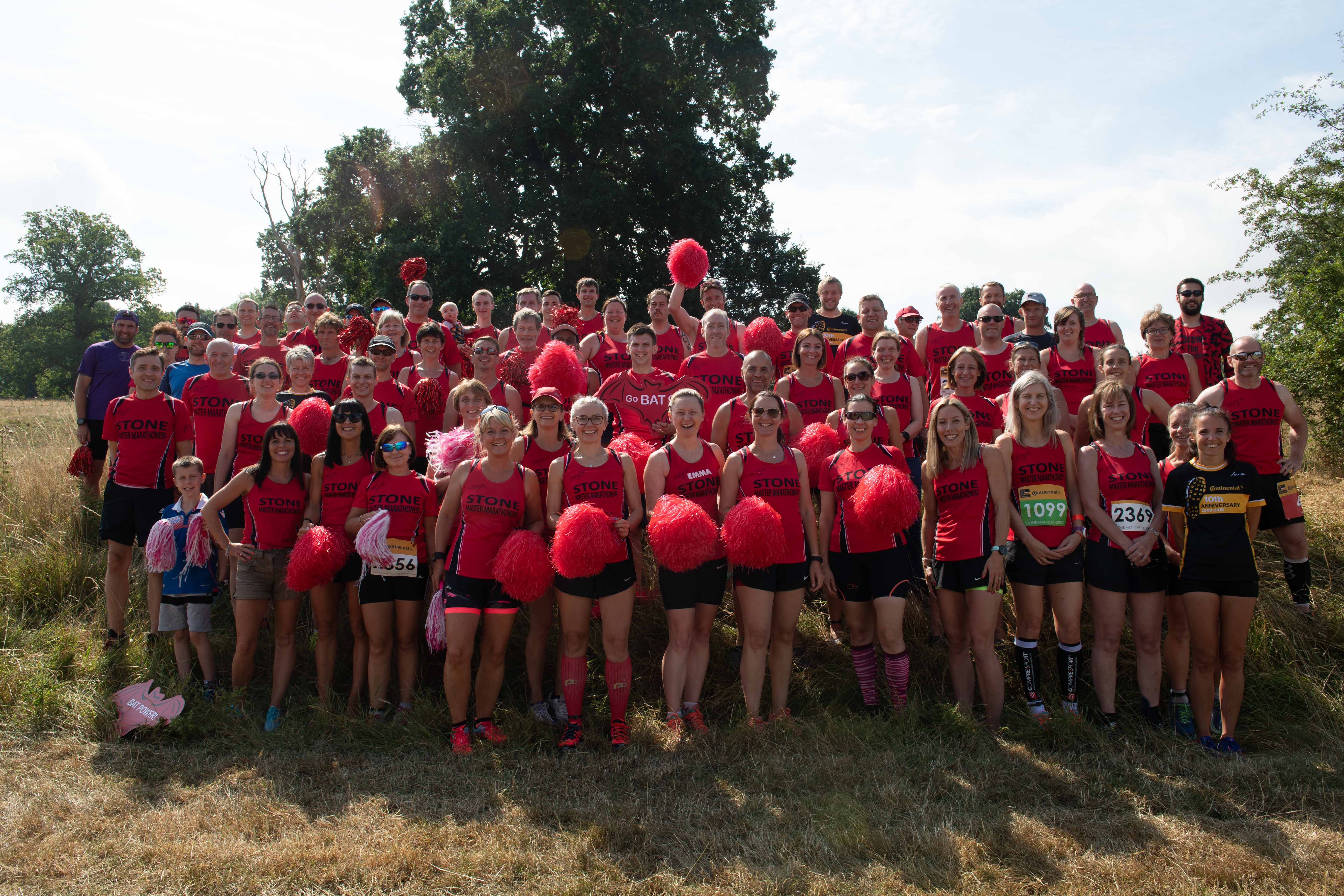 Our start plan was to do a lap on, lap off, and try to average 1 hour laps, but mainly to run at a comfortable pace. The sun was out and another very hot day. This was going to be challenging! 12 noon soon came around and before I knew it I was off. I purposely started my first lap at a good pace, as I wanted to be clear of the bottleneck that can happen after the half mile point. Runners make a right turn onto a narrow hilly path into the woods. Last year I waited for over 5 minutes at this point, not this year though! I was straight through this section and slowed my pace down to something more sensible for the job ahead. Support as always was fantastic on the well marshalled and supported course. The first few laps in particular are always some of the best, as everyone is still fresh and excited.
My first lap was completed ahead of time in 53:27. Aggi was waiting at the changeover, so I handed over the baton and she was away with her usual excited smile on her face. The first few laps passed very quickly with both Aggi and myself very consistent on the times. Always sub one hour laps, which was ahead of our target but we both felt excellent. Janson made sure we stuck to our nutritional plan on and after the laps, this was definitely working to keep our energy levels high. The first main obstacle came up when we got to our main meal time. It was very important to make sure we had a good meal before the night laps, but this would also mean that we must be able to eat and digest the meal before running. The best option for this would be to do double laps. We had already completed 4 laps each when it got to the meal time and I would be going first while Aggi ate. We were both still feeling very good and spirts were high. As I reached the end of my first lap of the double I was passed my headtorch, although it was still fairly light we had to have our headtorch's equipped after 8:30pm (event rules). Darkness quickly falls, especially through the woodland sections. I managed to complete my first double laps in 54:44 and 55:11 then handed over to Aggi again so she could do double laps. I had a quick change of clothes and then made my way to the camp. I enjoyed the extra long break while I ate and recovered, but before I knew it, it was time to go and meet Aggi as she completed her double laps in 57:01 and 59:10. These were night laps with the headtorch which made these times even more impressive. At this point we had completed 12 laps and all sub 1 hour. Team talk was always short but Aggi made it clear she was not keen on the double laps, and would need more time to recover. So I just said ok, let's stick to the original plan of one on, one off and see how we go.
It was now pitch black so the headtorch was a vital piece of equipment. The course seems so different at night, in particular the sections through the woods were challenging, the trees had lots of exposed roots on the well run course. A lapse in concentration and you could easily trip on the roots and that could mean the end of the race. On more than one occasion I nearly lost my footing, kicked a tree root and stumbled. There were a few choice words spoken out loud to myself. As I approached camp I knew Aggi had said she would need more recovery time after her double laps. So I made the decision to go again. As I had two laps rest previously I felt good and needed Aggi to be as fresh as possible. I had a quick word with Aggi to say I was ok and for her to have the extra rest before making my way out for the second lap. Again these laps were both under the hour mark; we were flying. I had resisted temptation to look at the live scoreboard, although I had received a couple of updates previously from camp. At one point we were 5th. Then we were 3rd. Now I felt the need to check for myself. It seemed an age for the different categories to scroll through. Eventually the mixed pairs came up. We were in 1st place!!! I had to double check, just to make sure.. Yes, it was down to us now. We had to keep pushing and not give in. I didn't mention our placing to Aggi as I knew she intended not to look and wouldn't want to know at this point.
As night eventually turned to day we had managed to run through the night pretty unscathed, still running the lap on, lap off strategy, but we were both tiring now. The lap times had started to drop to over an hour for both of us, but not by much and we were still in control. We just needed to keep an eye on second place as they had gained some ground on us but were still a lap behind. Second place were last years winners, and we knew that they wouldn't give up without a fight. Now it was a numbers game, we just had to keep moving. The problem now was that we were both hurting. Aggi was really feeling it and no wonder, she had already completed 9 laps. As I completed my 11th lap Janson asked me to go again. Aggi was asleep, she really needed an extra rest. This lap was going to hurt, but I knew we were still in with a good chance of winning. We had done too much to give up now. So I set off on what was my 12th lap and 3rd double lap, I just had to keep moving and hope that Aggi would be good to do another lap on my return.
21 team laps done, 1 more than our initial target but we still had several hours to go, Janson had been looking at the times and said if we can do one more lap each it should be enough to secure the win. Aggi was now up and about but was not in a good way. Janson had convinced her to go again though, I said just take your time and get back in one piece and we will be good. I had another change of clothes and tried to eat some food but really struggled to take anything on. I really hoped Aggi would take longer than she did to get round as I needed a rest myself. I don't know how she managed it but came in on her 10th lap at just over an hour. 22 laps total. Second place were still fighting away at the minutes between us, I knew I had to go again. Hopefully this would be our last lap but mathematically there was still enough time for Second place to catch us.
I came in on lap 23 in just over an hour, we checked with Janson and second place had 21 laps on the board but it were just about to complete their lap 22, it wasn't a clear enough gap for me to risk stopping. I was really struggling to move as was Aggi, but we both knew it was ours now, all we needed was one more lap on the board. It wouldn't matter if it was a walking lap. Aggi said she would go again, Shaun Ashworth stepped forward and said he would go round with Aggi again. This definitely made a difference and Aggi completed her 11th and our team lap 24 in a slightly slower time, but that was it we had secured the top position. As Aggi came in before 12 noon I had the option to go again for one final lap… so obviously the competitive side of me won. I thought I'll just have a walking lap with no pressure and thank all the marshals for their time, these guys had also been out on course for the 24 hours. So that's what I did. A nice easy no pressure lap. As I approach the Stone camp for the final time, Aggi was waiting for me, we were able to complete the final few hundred yards and cross the finish line together, as the mixed pair winners of Thunder Run 2018.
25 laps completed with an overall average time of 1:00:08 bang on target for the event. We would both like to thank Ben Gamble, Janson Heath and everyone connected to Stone Master Marathoners for having by far the best set up at TR24.
Aggi Pope and Paul Glover
Stone Master Marathoners