Isabel Trail's 14th Parkrun certainly tested the mettle of all runners and volunteers as the rain clouds loomed! Undeterred, however, a record number of 347 participants donned their Lycra and were ably supported by volunteers Stone Master Marathoners on their first Isabel Trail takeover.
Based just a few miles away, it's important to know Stone's running club is affectionately known as the Bats, so apologies in advance for any overuse of bat-related clichés!
Isabel Trail is a superb, flat, out-and-back course that has tantalising personal best potential. The pre-event briefing was a wet and windy affair however, as if like magic, the sun shone on the righteous literally as the event started and the rain held off for the duration.
Watching the wonderful gathering of Parkrunners start the event is always a proud moment, no matter what their personal motivations and goals. For example, we had the pre-race course analysis by 2nd place male Adam Guy on his first time visiting Stafford. He was interested to know exactly where the finish was, and marshals were pleased to explain the finish is around the corner, so he'd need to keep his bat wings a-flappin' as he swooped towards the finish!
Buoyed by a cancelled event at Cannock Chase this week, there was an abundance of first timers over in Stafford, including numerous dogs and little ones in buggies. Welcome to all tourists from near and far. Other highlights include watching the many young pups (still working in the bat terms, stick with me!) and beginner runners getting involved and giving their all to the line. Whether you're a racing snake or more social runner, you're a winner!
The sense of achievement is generally palpable irrespective of a finisher's placing in the results at Parkrun. Indeed, every performance out there today was fantastic given the inclement conditions pre-run. As we all know, just getting up and fastening your trainers can sometimes be the hardest part and everyone should be proud of their efforts today.
Huge thanks to Paul Glover for drumming up a large colony of Stone Bats to support the core Isabel Trail volunteers. Everyone from Stone Master Marathoners had a fabulous time and we look forward to coming back again soon!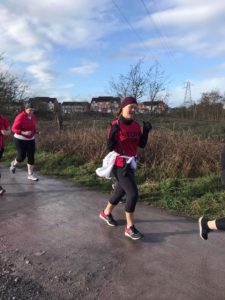 *Stone Master Marathoners would like to welcome all runners to join their off-road 5-mile series of races, Spring Treble. Held on consecutive Thursdays in April, it's a fabulous way to build up your distance and you'll enjoy all the same support and camaraderie on display at today's Parkrun event. Full details can be found here > https://www.stonemm.co.uk/spring-treble/