Race Report – Paul Lee
Right it's my turn to give a race report so here goes.
Trentham 10 k (previously Trentham 10 miles) is now only one lap of the hilly course. Can't imagine doing Beech caves twice!!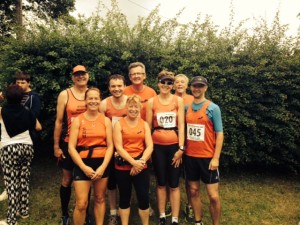 I arrived at Tittensor village hall (race HQ) approx. 1 hour before the start . As usual I hadn't pre-entered and preceded to the registration desk, only to be told that the race was full (300). Luckily for me and also several other late entrants naming no names ( Richard Fain). The race officials decided to increase the entrance by giving a limited number of 20  blank numbers. So I ran with a blank piece of paper with 311 written on it with black permanent marker (very classy)!!
I met up with Paul Phillips, Richard Fain, Anne-Marie and Joyce before the race. As i'm not in NSRRA this season (maybe next ??) I decided to pace make for Paul. We spotted his E group rival at the start line and decided we would get in front and stay there. About 0.25 of a mile into the race he spotted us and said better get in front of those Stone guys but he never did.
Beech caves was particularly hard in the heat (but little steps as they say). I had previously ran the course during the club run the previous Wednesday and so I knew what I was letting myself in for. Myself and Paul parted company about half way in the race after the climb up past beech caves and just before we hit the A519 for the slightly downhill section before going left up the A51 and another hill.
Unfortunately my garmin played up but I finished the course in approximately 45  minutes and Paul wasn't too far behind me and beat his nearest NSRRA rival.
Richard Fain (first in for the club) ran well in approx. 42 minutes which wasn't too far outside his PB and also just a second behind his NSRRA rival.
I heard that the heat took it's toll and 2 runners had to seek medical attention. An ambulance and air ambulance were called respectively. I do hope that both runners are ok but at the time of writing I haven't heard.
The new look Trentham 10 was well organised and very challenging but overall a success. To be honest I had forgotten I was doing this report so I do apologize ladies for not including some of your times !!
 Roll on Staffs Knot 5 miles (30th July I do believe)
 Happy Running!!
 Paul Lee