Race Report – Mac McCoig
Faced with the hilliest half marathon in the NSRRA calendar, the August weather didn't fail to deliver: sun, rain and a strong, cold wind in equal measures provided the backdrop for my first Leek half for 15 years. And yes, it was as bad as I remembered it – worse actually.
I am currently languishing in seventh place in my NSRRA group. I was keen, therefore to improve my points total by competing in unpopular races, so I did some research on previous years' turnout by F Group runners. Unsurprisingly, Leek Half has seen the fewest F Group runners in the last two years. Righto, I thought, I'll do that one – good points to be gained here, even if I have to walk. So imagine my surprise when standing at the start, cold, damp, untrained and slightly hung over, there's a sea of F's in front of me. Literally: F in hell! What's the matter with these people? Don't they know when to stop?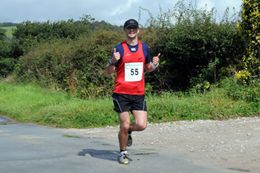 Still, I was in good company with Mick Downes, Paul Lee, Paul Phillips, Anne-Marie Mountford and I crammed into Mick's car off to Leek in good spirits (we were a lot quieter on the way back).
The venue and start/finish are in Brough Park and Leisure Centre with jolly entertainment provided by Roger Westhead's New Orleans Jazz Band. All very good until you realise that Brough Park is at the top of a very large hill, which has to be renegotiated at the finish – cruel, cruel.
And so off I go to Tittesworth Reservoir and Meerbrook, where Bryan Dale is waiting to snap my picture, so I smile and pretend I'm enjoying myself. By this stage I've managed to get past two F Group runners and the rest have vanished into the distance ahead. No matter, I'll reel them in later when I'm getting my second wind and they're flagging because they went off too fast.
Yet another climb up to the Three Horseshoes at Blackshaw Moor. Then down into Upper Hulme and more climbing past Hen Cloud and up, up to the Roaches where I am rewarded with a spectacular view, a strong headwind and not a wallaby in sight. A sharp left takes me down a hill so steep that I'm almost out of control on my (by now) rubber legs. I recall this hill when we used to have to run up it – I'm so, so glad they changed to route.
Gentle running back to Meerbrook at about 10 miles. There's Bryan again with his bloody camera – "Hello Mac!" he waves cheerily, "Harumph!"
Up the huge hill out of Meerbrook and no sign of any flagging F Group runners. Note to self: no more self-delusion please.
Finally, very painfully back up Park Road to the finish, where the SMM posse are waiting to cheer me in, thanks for waiting guys and thanks Mick for fetching my sweatshirt and driving us to Leek.
Verdict: Well organised race, lovely course, traffic free and wonderful views, but at least four F Group runners in front of me, last in for the club and a rather slow 2:08:54. Further note to self: Please don't do that again, please (until next year).