Race Report – No 1 – Julie Ebery
What a lovely event hosted by Trentham Running Club (held in memory of one of their outstanding club members). With easy parking and a well-constructed short course this made an ideal run for all levels of runners.
We had good bunch of Bats run the course which started off at Trentham Rugby Club with a loop around the pitch and grounds, then off towards the canal at Trentham for a fast pace and then back up over the fields towards the club house for a final lap of the grounds. A little up and down with some nice flats but all together a good course on grass and paths.
What made this a course special was that it suited those who wanted to test their pace for a short run. I did hear the word PB mumbled by one of our male finishers (Well Done!) and sadly I heard also ….'my slowest ever 5k'…. in a bit of a fed up voice! (I'm not saying who though, I keep my council on these matters….)
The most encouraging aspect was that some or our Beginners took part as well. Sharon completed her first race and so proud she was; and deserves to be too with such a super time. It makes me proud to consider what these new members of the club can start to achieve by being prepared to race, and then realising that racing is fun and rewarding.
All in all a lovely night out and I want to encourage more next year to take part; especially our Thursday night runners.
---
Race Report: No 2 – Paul Phillips
Well after a testing (but ultimately successful) Leek Half Marathon on Sunday and an easy club run on Wednesday night – I decided to brave the chilly evening and go for a quickie in Trentham.
I was unsure if there were any other Bats turning up as it appears to be a low key event dominated by the 'Green Army' of Trentham in commemoration of one of their founding members – as the race says 'Dave Clarke'.
I made my way over to the registration singing 'All by myself' and collected my number – did my usual half hearted warm up (jogged back to the car to drop of my SMM Fleece and back up to the start area).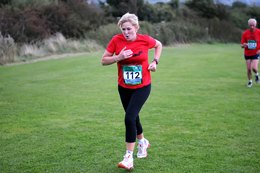 There amongst the green there were a few dots of red and I spotted Alex Yendole and Mark Churton both supporting their kids in the fun run but also both with numbers on, then a few others Emma Jane Clay,  Julie Ebrey, Chris and Pam Eardley and Sharon Brandwood most of which were entering their first 5k or even race in Sharon's case.
Finally I spotted Jonathan Howell warming up, so 9 Bats in total, quite a good turnout with some new faces representing the club.
After a few minutes delay we meandered onto the rugby pitch for the start, a bit chilly but the rain holding off, and set off for a lap of the pitch before heading off across the fields. Jonathan and Mark set off well and I plodded around at my own pace with my previous best target of 22.34 in mind (done on a pleasant Hanley Park Run on fresh legs).
As with Leek a friend from Trentham had explained the course was quite testing and narrow in places so not going to speed round in PB times (21 minutes which had crossed my mind for a very brief moment).
 We left the open spaces of the rugby pitch and had a little climb up the fields (one of the narrow places) and then down onto a bobbly path down to the canal – couple of gates to tackle which stopped you in tracks but okay so far for the first mile.
Then a short stretch along the canal, passed Mark Churton and then a slight climb back up with a view to behold of the mighty Britannia Stadium (stop swearing now people!).
Jonathan was just ahead as we rejoined the earlier path and fields back down to the rugby club. Onto the rugby pitches we had to do a figure of eight round the pitches and then a nice flat finish, I felt a bit guilty passing Jonathan with about 200 metres to go but had plenty left in me (note to self – try harder) – crossed the line just inside my previous 5k time 22.13 officially.
Couple of deep breaths later turned back to the finish line to start cheering my colleagues and the other runners over the line. Alex took the photo finish between himself and Chris Eardley, both clocking impressive times of 23.08 and Mark Churton not far behind.
The ladies all crossed the line not far behind with some excellent times for first races over a relatively challenging course.
We were all rewarded with a souvenir mug and lots of flyers for forthcoming races – including one from Mark C for the upcoming St Thomas 7 – lets get plenty of Bats supporting that race!!
All in all a pleasant run out for a good cause in good company but for me feet up for a week and off to Lanzarote for sun and beers.
See you all in a couple of weeks.
Paul P