Race Report – Lisa Russell 
Well here we go again.  The Great North is my favorite race that's why I've done it more than any other race in the time I've been running but this year was a bit different in that the training hadn't been ideal infact let's say non existent!
Let's go back to March Yes March the last time I ran over 10 miles at Stafford half, then the beginning of July I managed a 9 miler then there was 3 times I got out in France with about 5 miles a piece while on holiday….already looking dicey…yep you'd be right…so a quick run the morning that we were driving to the South Downs for a walking training weekend for my Kilimanjaro trek mid august should've been a great warm up…WRONG pulled calf by Meaford locks and a slow walk back! Doesn't bode well already but add to that new shoes…OMG looking at all of that if I'd have written that before I'd done this I'd probably have stopped right here!  Anyway….
Saturday 6th just before leaving for Newcastle thought I'd best see if I could run and pootled around Bournes short run about 3miles or so with my calf taped and compression sock on…yep good to go!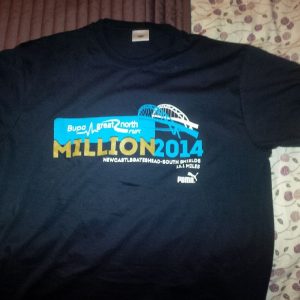 So usual journey upto Newcastle, done this 8times now, and met up with my school friend and her running buddies (their first half marathons) at our usual hotel in Seaton Carew a stroll along the front, when of course everything ached, and an early night ready for the 5am alarm!
Loaded with porridge set off for the race transfer bus from Hartlepool upto the start.  The organisation for the Great North really is a feat of mega proportions especially as it's a point to point and before we knew it we were in the thick of runners arriving at the start.  Having been there before I guess I've kind of got used to it a bit but as we slowed down for my friend and her buddies it was chance to take it all in again.
We made our way down to get pins from info…forgot to bring them…and water, before installing ourselves on our usual bit of Armco under the bridge.  We took turns to get drinks and join the ever increasing loo queue before it was time to split up and head to our pens! Now with everything above considered I was the furthest forward hehe!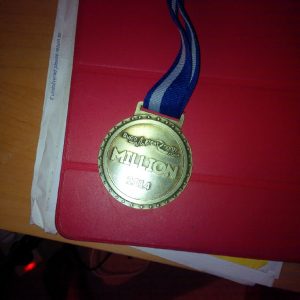 All the bits you don't see on TV that makes it a great race really start then, the usual banter with other runners and the warm up they lay on where everyone seems to do it anyway even if you usually do your own thing and the stripping off and discarding of everything clothes wise In the middle of the road and then before you know it you are off….well not as it took nearly 20mins to cross the start this year.  The usual out too quick was avoided as I was sensible all things considered and I made the bridge that's almost 2miles and I Started thinking I might actually finish even though I'd memorised the pick up points!
Kept up a nice pace to about 6miles that's about the top of the steady climb then started to slow…gel…that'll do it…hmm praps a bit but no and about 8 miles admitted defeat and walked a bit my wheels were falling off.
A serious talking too got me going again…my charity were just ahead and I had to run past smiling! This positivity and the wonderful people that lined the route got me to about ooo 11 miles even I was impressed by now and there was no way I wasn't going to finish!
A little walk up the hill and to be honest having done it so many times I can honestly say I've never seen so many people walking up the hill and that was it I could see the sea!!!! Happy days!!
Now for those of you that have done this race you know that from this point it's about a mile to the end and it LOOKS close cause you can see the TV booms but it's the longest mile in any race I've ever done. I'm sure they move!!!! But with my walk I had new impetus and before I knew I was bounding along and it turned out to be my quickest mile in the whole race….yes I can hear what you are thinking…didn't run fast enough!!!
And then it was there…whoopee the finish…and never have I been so happy to see a finish arch in my life.  To clear the finish the other thing you don't realise is that the finish area is about a mile long … But now I didn't care as  I'd finished naff time but hey all things considered 2hrs16 wasn't bad…then Mr Russell's time flashes up on my phone…1hr56. Bugger and where did he overtake me!
Ah well plodded to our usual rendezvous to find he'd been and got our bag already.  Then a nice sit in the sun to wait for our friends and the Red Arrows who we discovered soon after weren't doing a display at the finish as usual.
Ah well with us all reunited and medals hung round necks we started the walk back to the bus and home…
As a footnote to this story if you ever do the Great North or go up to spectate or just find yourself that way on Great North Day …don't stop at Weatherby services…
Anyway good weekend had by all, minor miracle achieved definitely not the way to do it and yes I'll be back!!!