Race Report – Julie Ebery
A balmy late September day greeted our club runners at the first Cross Country Race of the series, held at Winsford.
We had a spirited turnout from our SMM Ladies: Margaret, Alison, Anne-Marie, Julie E, Rachel and Emma. Rachel and Emma were our first timers and we were delighted to have them. They paid tribute to the event with bringing gorgeous post-race goodies. In total we had brownies, apple cake, scones…..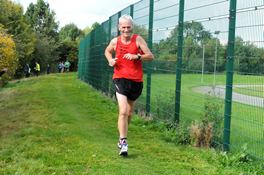 The gentlemen were a little sparse and sadly Richard and Kevin were our honorary men; but insufficient to make up a team – where were the rest of our SMM Males??
The going was firm underfoot although the grass was a little long and spongey in places. There was a good turnout and a super atmosphere. The course is simple and effective. Running around the perimeter of a sports field with a few hills and wooded areas, made the event intimate as our supporters could see us most of the way round.
The ladies race was just over 3 miles and certainly not muddy at all. We were proud to support SMM and came in with some good times. Moreover the spirit that ensued within the team was the highlight.
The mens race started in earnest and Kevin and Richard maintained a strong pace throughout the race. When our boys ran past our club cheerers, 'our SMM ladies' were highly spirited. Kevin stayed in the 'zone', and maintained his composure, however Richard was so excited he danced around a tree (much to the delight of both the SMM ladies and the Market Drayton ladies). The gents ran an honourable distance of over 6.5 miles.
Well done to all our SMM'ers. The sad news is that we failed to have a men's team, but nevertheless we all enjoyed the day, thanks to good cakes and an enthusiastic attitude.
On a final note, Cross Country shouldn't be seen as something scary. It is a team event and a great deal of fun, bringing club members together.
We'd love to have more support from or members, so please if you are interested, let Alison or Jonathan know.