Race Report – Richard Fain
…And so to Tean we went – where the St Thomas 7 mile race awaited in the 18th round of the NSRRA series. This was my 11th event of the year, and with only 2 more events to come afterwards, a vital source of points!
I remembered this fairly undulating course from last year and was hoping to get a good pb. The only issue being that I had not done any races for 2 months and had given myself a summer off whilst on honeymoon! I dug out my tatty, ripped running shoes and dusted them off one more time…
There was a good attendance from the club with 12 runners in total as well as support in terms of admin and marshalling. It felt like a good morning for running and I enjoyed the ramble up to the start away from the school as Mick D, Paul, Pam & I reflected on our differing levels of preparation for this one!
The race
It's a crowded start which heads slightly downhill from the off, and no matter how far forward you get it can still be a struggle to get any sort of rhythm going until you have a bit more space around.
For me this took until about 1/3 of a mile, so it ensured I didn't go off too fast. I was aiming for about 7 min mile pace, but at the 1 mile marker it was over 8 mins so I had some catching up to do! The first couple of miles incorporate part of the climb that is within the Cheadle 4 race (see my other race report!)so it was at least familiar as we climbed through the wood. Halfway up the hill I spy Bryan Dale which always lifts the spirits as we all pose for a cheesy picture!
About 2 miles in I've settled in and start trying to make inroads on the groups ahead, which contain several of my fellow Group D runners. There's a good section of flat before a brilliant downhill section to about 3.5 miles. You can really fly down the hill with minimal effort and I overtook a number of faster runners here and figured I must be about top 5 in my group at this point, which would represent a good points haul.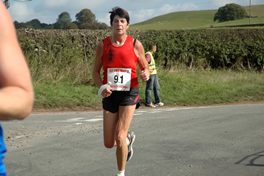 The only shame being what goes down must go back up again! From about 3.5 – 6 miles it is a steady climb. This is where the fatigue started to set in and I was battling with myself to keep pushing. Luckily Mick Beardmore from Cheadle was running the same pace as me, and provided lots of encouragement as we persevered on – thanks Mick!
Apparently there was a marshalling issue around mile 6 which sent a number of runners the wrong way – this must have been only a few minutes ahead of me but fortunately for me I was unaffected and just kept following the others in front! The last mile is a nice downhill relief but there was no chance of catching the next pack ahead by this point. At the turn for the finish there's a final uphill pull but you try to get a sprint on. Mick sportingly let me finish ahead of him on the playing fields and I collected my goodybag – straight in for the chocolate!
Oh – and the time… well after the first mile was much slower than planned this sort of went out the window, but I was managing to put in some low 7 min miles and a couple of sub 7 min miles down the hills, so overall it came in at 50:12, 20 seconds quicker than last year so a pb here!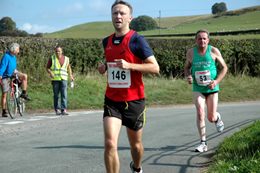 Mick D was looking very happy with himself having bagged an impressive sub 47 min run and Paul "I could see you the whole way" Phillips came in at just over 51 as the 3 of us all chase down tight promotion races in Groups C, D & E. I bagged 4th place in my group and it looks very close between me and 2 others to secure a place in the top 3 before the end of the year.
Well done all that raced on another great performance, it definitely makes it more enjoyable seeing so many runners from the club competing – whether it be for p.b's, age groups, NSRRA, SMM Championship or just for fun!
Another year of road races is starting to draw to a close, but over the next two months there are some great local races at Congleton, Werrington and lots of Cross Country events, not to mention our own Flying Fox 10.
And after 6 months of running in ripped shoes, I've finally invested in a new pair!