Race Report by Anne-Marie Mountford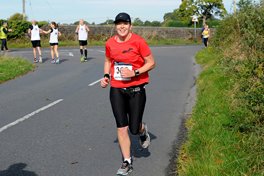 So here we are again gathering for another race, and the usual suspects congregate on what could be described as a glorious October morning.  This race is an important one as both Club Championship and NSRRA points are on offer.  At the start of the race I was sitting top of my NSRRA group with 599 points, one more win would give me maximum 600 – jackpot!  For some reason today I had an internal battle over whether to take a drink with me.  I've done the race twice before and know that the drink stations are well accessible but sadly only cups on offer which I end up wearing most of the contents of rather than ingesting.  Bottle belt free won the argument so typically from the start I was thirsty (more of a psychological thing I think).
There was an air of calm over the first few miles, thank goodness it was chip timed as I was quite a way back from the start.  I chatted with Karen Murray, Stafford Harriers, and discussed the race ahead.  She went ahead of me and I just settled in behind, well second place wouldn't be too bad, would it – NO WAY.  I seem to let people pass me on the flat and I could be better on downhills but uphill I'm stronger and so I caught up on the first climb out of Congleton.  I passed Karen with a "see you later".
I always remember the first time I did this race and was in my usual negative mode when at around the 4 mile mark Lynne Shepley grabbed my hand and pushed me on until we got to Jodrell Bank which Lynne said signified half way.  Thanks Lynne!  In the distance I could see Bobbie Hickman from Potters Trotters also in my NSRRA Group so made an attempt to catch her.  On cruising past I heard her say "oh God" to which I replied "no need to be like that" jokingly.   The guy she was running with looked puzzled but she did laugh and say "she's my nemesis".  That's one thing that I've enjoyed this year is the competition.
The Sting in the Tail wasn't too painful, and the final drag to the finish was well supported and I knew at this point that I'd won my group again but what a bonus that I'd got a PB.  If only I hadn't stopped at the last drink station to actually drink the water and not wash my face could I have gone under 1.50 grrrrr!
Some of our other club runners got PB's (forgive me if I've got this wrong as I'm writing this a couple of weeks after the event) Paul Lee and Richard Fain and for Richard Shaw it was his 50th Half Marathon – well done Richard.
Big thanks to Hazel Fain who not only distributed Flying Fox Entry Forms out whilst the race was in progress but also had my drink and my jumper at the finish, thank you so much.
And so to the last event of the NSRRA Calendar the Flying Fox 10 ….