Race Report – Alex Yendole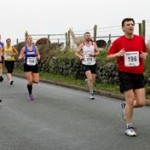 The morning of Saturday 29th November 2014 started on a cloudy grey note but by lunchtime the sun was trying to break through over North Staffordshire for the start of the 'famous' Cheddleton 10K race.
With the fun run of one lap being completed prior to the main event, the adult runners set off at 2.00 p.m. to complete the three laps of undulating country lanes around the rural hinterlands of Cheddleton village, just off the A520 Leek to Meir Road.
 An excellent field of runners took part, from the seasoned club participants to those taking the opportunity to enter the festive spirit, with all enjoying the family atmosphere of a late November trot in preparation for the excesses of Christmas.
Stone Master Marathoners were represented by Kevin Uzzell (first in for the club), Nick Boulton, Julie Boulton (first lady in for the club), Anne-Marie Mountford, Joyce Edwards and Alex Yendole. There was brilliant support around the route including a Scottish piper, happy crowds, and our own families and friends along with the new addition of Noah the puppy.
Being my first time at the Cheddleton 10K I would definitely recommend the event for those interested in securing a Christmas pudding for next year together with an excellent village fair atmosphere and tempting winter treats for the school's stalls.