Dirty Weekend with Mac McCoig
Or – The Six Dales Challenge 8th November 2014. 25 miles in the Peak District
You know when you do something and it hurts, so you don't do it again? That's the way things are supposed to work, isn't it? So why did we sign up for the Six Dales Challenge for a second year? Pam certainly swore that she'd never do it again, said she hated every minute of it. Well I enjoyed it last year; I didn't get lost (unlike Pam and Julie who ended up doing 29 miles) and the weather was fine, so long as you finished inside 7 hours. So why are we here again, and with more SMM runners in tow? And the weather awful, just as Carol Kirkwood predicted. The water poured from above and oozed from the mud and cow pats below. It's because we like punishing ourselves, that's why.
Julie posted on Facebook afterwards: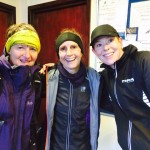 "What a lovely day… Hmm… Ran the 6 Dales Challenge. Just over 25 miles in the Peak district. Wet and very muddy with raging torrents in the dales. Streams and footpaths merged and wet mud was the order for the day. A tough challenge but did it in 6hrs 52m. 2 checkpoints to refuel and then wonderful food at the end by the organisers. Still trying to get warm!"
A good synopsis of the event, I thought, which I have to endorse. It gives you an insight into what it was like underfoot and the continuous rain lashing down from 9am onwards.
But I thought it was GREAT! Where's the challenge if it isn't challenging?
The Six Dales is superbly organised by the LDWA and there are usually familiar past and present SMM Members present – Dennis Banks, Rose Gillick, Emma Key were there. There was certainly a good sprinkling of current SMM Members there too, including Anne-Marie, Claire, Julie, me & Pam, John & Joyce and Tim, who was running with Roger.
The course starts and finishes at Biggin Village Hall and takes you through Biggin Dale, Wolfscote Dale, Beresford Dale, Lathkill Dale, Bradford Dale and Long Dale. The settings are fantastic, with a mixture of high panoramas and crag-filled valleys filled with the sound of rushing water.
Julie, Claire and Anne-Marie went off quickly at the 8am walker's start, jogging past the wrinkled anoraks of the seasoned LDWA walkers and drawing many 'tut-tuts' as they did so; Runners must start at 9am, you see. Pam and I briefly caught them up at the first checkpoint and off they shot again.  We caught them up again at Moneyash checkpoint and this time left them behind. I can tell you that the thought of flapjack and a hot cup of tea at the checkpoints kept me going. The thought of the girls catching us up kept Pam going (she's very competitive, you know).
Pam and I finished in 6 hours 40 minutes, sopping wet but in high spirits. We will be back again next year, whatever the weather. Next? The Real Ale Ramble at Llanwyrtyd Wells, two days of walking and beer – what more could I ever need? Get the campervan packed Pam!