This was the last club championship race of the season and after missing the South Cheshire 20 I wanted to do this to do 9 out of the 10 races. It was also the penultimate NSRRA race and my 12th ensuring I qualified for the points.
For once I didn't arrive at the crack of dawn and I managed to arrive about 9:30 AM to collect my number and T shirt and then mingled with the other bats. As always there seems to be hundreds of group D runners present. We all had a quick chat and then assembled for a 1030 start, it was a perfect morning for running and after a quick safety alert from Ken Rushton we set off.
My plan was to try and stay close to Tim for once so I went off quicker than usual and after about 400 yards I was doubting my plan.! However I stuck with it and managed to do two sub 7 minute miles for the first two and felt ok.
I did this race 2 years ago and remembered there was a hill at mile 4 so although Tim was only a couple of hundred yards in front I didn't try and catch him and tried to save myself for the hill. I went through the halfway stage slightly quicker than my 5k PB so perhaps the people who say I am not trying hard enough have a point !
The hill as I remember was 'a beast' not particularly steep but it just dragged on and threatened to undo all my hard work for the first 4 miles but apart from one point where I had to walk behind a Mercedes going slower than the runners I managed to get up in under 8 minutes.
This left a relatively downhill mile with a slight uphill to finish before the run through the school to finish. https://www.stonemm.co.uk/2015/10/20/werrington-10k-18th-october-2015/ https://www.stonemm.co.uk/2015/10/20/werrington-10k-18th-october-2015/I managed to pass a few D runners but the quality this year is brilliant and I will be happy with 44/45 points today but no guarantees.
I clocked a 10k PB by about 45 seconds (43:47) and was about 3 minutes faster round Werrington than 2 years ago so I was more than happy with my run.
Tim ran a really good race and finished in about 41:23 with Amy Gamble not far behind me in just over 45 minutes and 1st F35. Anne-Marie, Gail, Joyce and Katie Adams also ran with Joyce 1st F65, so a good turnout with PB's and prizes and the Bats on the up.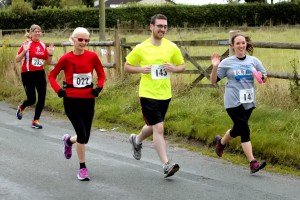 All the results are on the website www.stonemm.co.uk
Next up is the Stafford Common Cross Country so let's get a big turnout and start challenging.