Race Report: Jackie Allen
Four of us (Tim Hulse, Fabien Carbonell, Amy Gamble and myself) met at the club for the drive to Helsby, wondering if the race would be on or not due to the weather. Last year the start was delayed and then cancelled, and as there had been snow in Stone and Stafford we were unsure what lay ahead.
This was the third time I'd entered the Four Villages Half and has always been my favorite half marathon course. Things have improved since the last time I did it – plenty of drinks if you needed them and an improved bag storage system.
The route itself is described as undulating, but compared to some of the places we train I would say it was quite flat with a couple of nice downhill sections. It's a rural setting and quite scenic.
There was quite a bit of support along the way which was good and unexpected seeing as the roads were all closed to traffic.
I found the first five miles the hardest as I couldn't seem to find my pace, but once I'd got past that point I started to enjoy it.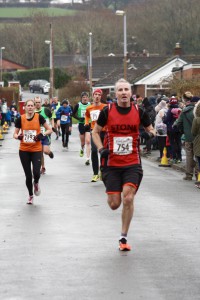 At about 10 miles I dared to think I might be on for a personal best. I felt reasonably good compared to how I felt at the start. I even managed a sprint finish which is unheard of for me!
All four of us were pleased with our times and enjoyed the event. I managed to knock over 2 minutes off my previous best which was a real bonus and good start to the year.
We were given a medal, drink and goody bag at the end. So it was all smiles for the journey home.
Tim – 1:28:23
Amy – 1:35:51 (PB PB)
Fabien – 1:39:08
Jackie – 1:44:11 (PB)