Race Report – Pam Eardley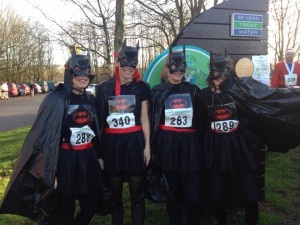 So the day looked good weather wise, I really don't fancy this run in bad weather although I'm told they change the run if it's bad weather, it's still bleak up there.
I met up with Alison Brind and she drove to Tittesworth Reservoir where we met Phillipa  Steele and Amy Gamble. Amy was costume designer and a great job she did too . Once we'd entered the race and dressed ourselves up suitably the race started at 11.
There really was some brilliant fancy dress costumes Santas, elves, snowmen along with themes not so Christmassy .
We started off through some fields and farm tracks, lots of mud and my trainers are still recovering in the airing cupboard. Then we hit the lanes and started to climb slowly until we came to the off road point and onto the Roaches.
The path was very muddy uneven and you really did have to concentrate on where you were putting your feet, there were some points where you had to walk it was so steep and un even. I did manage to keep other runners in my sight as I did have visions of being the last one out but no there were people behind us and the other girls waited at points so it's was a lovely no pressure fun (I think) run.
There was a man running with a record player who overtook me on the climb I did mutter something to Alison about being overtaken by someone heavily burdened by his fancy dress !!!! he was playing some grunge music so was  quite glad he went past me .
On reaching the trig point  we had a photo opportunity and  it was all we could muster to stop ourselves taking off in our bat capes. Such spectacular views just amazing that we live so close to this natural beauty.
Then the decent, well all I can say was it was euphoric , just a beautiful 4 miles down hill, I did say to the girls we'd all done well not to do a Madonna in our capes.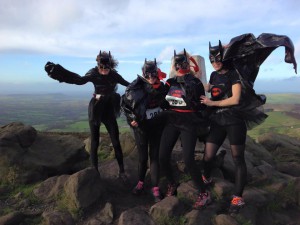 We crossed the line together and I felt amazing looking back towards where I'd come from.  I would recommend this run everything was fun the marshals, the other runners everyone was in good spirits.
The choice of socks or beer was your reward, beer for the hubby I thought as he did hold my coat bless him.
Hot drinks were served to the runners then a snowman with a flashing red nose came and asked where our tent and generator were !!!!!  ? We are famous the SMM bat cave !!!!!!
Dick Dastardly was the individual fancy dress winner not sure who got the group win.
 A brilliant day out thoroughly enjoyed it and a big thanks to the other girls we had a great team spirit .