After my week off last week whilst the rest of Staffordshire were running the Stafford Half it was back to North Staffs action at the South Cheshire 10k.
It is my 3rd year running the North Staffs races but the first time I had managed to get a pass out to run this race on Easter Sunday (had to drive to Hull and back on the Monday to get the brownie points banked!!).
So woke up early and had the obligatory porridge breakfast and got my kit together ready to leave when the kids, still in pyjamas, asked to go out in the back garden and look what the Easter Bunny had bought. So some quick thinking gave me a quick warm up round the garden before I miraculously found the key and let them discover the magic !!!
Anyway back to the racing…..arrived at the registration area, collected my T Shirt and met up with some fellow Bats who were carrying cake tins ? There was very little talk of going to a Public House for refreshment afterwards more of what kind of cake, as noted on Facebook earlier is this a worrying trend or professionalism kicking in, perhaps one we can discuss on the 'Pub Run' Wednesday !
About 20 minutes before the start we went out for a gentle warm up whilst discussing race strategies. I think 'Get it over with a quick as possible' was the main consensus, a good strategy as it was a race.
The rain was holding off as we gathered for the start but there was a brisk wind which was quite cold when standing around so it was good to get going. The opening 500m or so is a run down to a roundabout then back to the start before going out onto the loop and it was good to see some Bats in the front pack with Paul Swan and Simon Hodgkinson near the front closely followed by Tim Hulse, Pippa and Amy, I wasn't too far behind but after going off a bit too quick at Alsager I held back for the first mile or so until I found my pace.
As everyone said it was a relatively flat course with no noticeable ups or downs, the only tricky bit was the wind that with it being two circuits through an industrial estate there were a couple of bits that had you fighting against a brisk breeze, I tried using a fellow D racer (Adrian from Cheadle) and Grahame from Uttoxeter as wind blocks but after a steady first lap pushed on.
I could see Amy in the distance and knew of two D runners in front of me so kept expecting some to run past me at any minute but after about 4 miles I started feeling quite good and picked up the pace and slowly started picking off runners in front of me. After 8km you turn into the last couple of stretches and the wind at this point was behind you so you know it is not far and you give it everything, I crossed the line in 42:52 which was whole second inside my PB (although that was run at a charity event and my Garmin only registered 9.95km) and only a few seconds behind Amy so although I wasn't feeling it at the start I was pretty pleased with my efforts. (Also got 48 points 🙂 )
We gathered together and cheered the other Bats over the line and a special mention goes out to Bonnie who ran her first NSRRA race in a brilliant time of 55:36 and got some good points on the board.
Paul Swan was first in for the club in 37:16 and Pippa Steele 1st lady for the club and also 1st F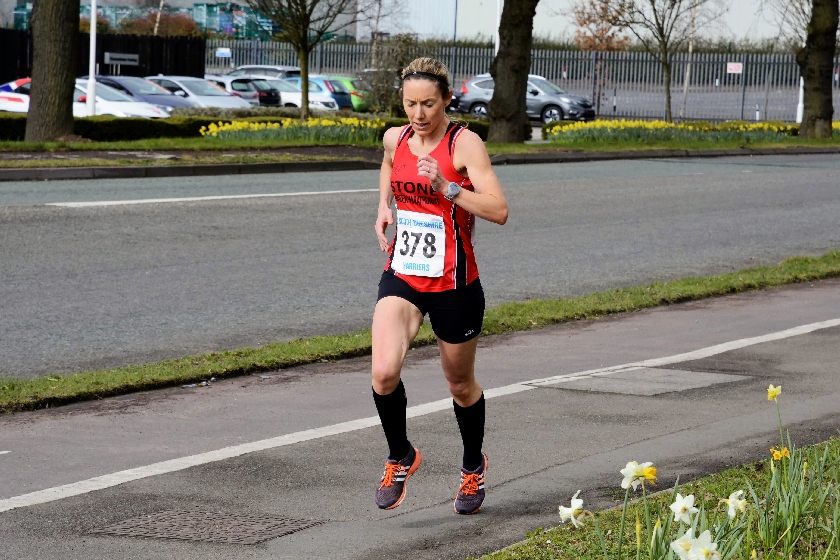 35. Pam Davies was 2nd F60, Joyce Edwards 2nd F65 and Richard Shaw 3rd M65 also placing in their age groups, also a number of other PB's achieved below:-
37:16 Paul Swan

38:27 Tim Hulse (PB)
41:15 Pippa Steele (1st F35)
42:46 Amy Gamble
42:52 Paul Phillips (PB by 1 sec)
48:26 Richard Shaw (3rd M65)
48:41 Samantha Hodgkinson (PB)
51:55 Pam Davies (2nd F60)
53:23 Mac McCoig
53:29 Margaret Shaw
55:36 Bonnie Seabridge (PB)
55:44 Tim Clegg
57:45 Joyce Edwards (2nd F65)
(under transfer)
37:05 Simon Hodgkinson
56:23 Kathryn Ambrose (PB)
Back in the registration area we watched the presentation whilst eating Kathryn's brownie (with spinach!) and chatted with our fellow runners.
Agreeing to meet up same time next week – Newcastle 10k (not quite as flat but still a great course).