Well here we are again, no sooner have we finished discussing last week's South Cheshire 10K that we get ready for the Newcastle 10K. Last week people kept telling me it was a flat fast course, definite PB (which I did manage by 1 second) which I must admit made me quite apprehensive and I piled the pressure on myself as I had never ran the course before.
This week it was my third attempt at the Newcastle 10K so I knew all about Black Bank and also the nice flat run in along the old train track so no pressure, I knew what to expect and also what my expectations were – beat last year (45:02 I think).
Got up and followed the same routine, porridge, sort kids breakfast, shower and the change, however my darling wife sprang a surprise to the routine she wanted to bring the kids and cheer me on !!!! Whoa there….fortunately she knows me well enough to know I like being at the course about 6 hours beforehand (slight exaggeration) to get myself in the zone, mind you I'm the same with anything always get there too early ! So I get myself ready and set off leaving Nicola to decide where she was going to park and then cheers us Bats on later.
Arrived at Newcastle, collected the number and had a quick chat to fellow Bats and fellow runners, with the NSRRA it is great fun because I have been running against the same guys now for the past 3 years and it is great that we are all improving together and spurring each other on, although we all seem to say we aren't up for it today, mind games on a Sunday morning !!
Last week for the first 2-3 miles my legs felt heavy and I wanted to just stop and go home but felt strong at the finish, so this week I tried a different approach, myself and Tim H went for a swift 2 mile warm up, to the bottom of black Bank and back, I think Tim wanted to scope the course out as he was a first timer on this race, although he claimed he was going to take it easy (39:13 !).
We got back to the car and start area about 10 minutes before the start and Nicola was there with the boys so went over for a sneaky cuddle before the off.
We started lining up and chatting amongst ourselves and before we knew it we were off…….the courses sends us out through Knutton and it is a steady incline straight away up to the Railway Bridge which gets your lungs working immediately before it settles down and you have a steady run for the 1st km, then you turn the corner out of Knutton and see the glorious site that it Black Bank. It isn't a steep hill but it seems to stretch on for miles, you go past the 2km and 3km markers and keep thinking not far to the top but it just seems to go on forever before you get to Alsagers Bank and turn left….thank goodness no more hill….wrong, there is a sneaky little climb then into Scot Hay. At this point I had been passed by two Group D runners who had disappeared into the distance I kept going in the faint hope they would slow down, no such luck.
Once you are out of Scot Hay it pretty much flat with occasional downhills before turning onto Silverdale Road at about 6km where you have a good 1km downhill to get you ready for the last push where you turn onto the old railway line just before the 8km marker and go for home. At this point you know there isn't far to go but the effort put in up the hill at the start prevents you (well me) from a sprint finish and it is a lot further along that track than I thought.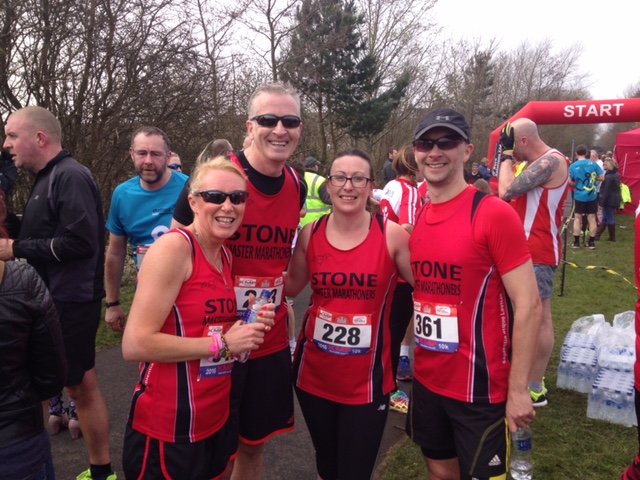 Eventually you see the finish line ahead and I pushed for home with Nicola and the kids encouraging me home with 100 metres to go and finished in 43:36 which was almost a minute and a half faster than last year……Progress !!
I think I finished 3rd in Group D which seems to be my current level so hopefully if I can manage a good season I might push on from here and who knows.
As always we hang around the finishing line like a bunch of teenagers outside an off licence and cheer on our fellow Bats and other racing buddies, shaking hands and actually enjoying the fact we have just slogged our guts out on a Sunday morning – runners are odd !
It was a cracking day, very enjoyable race, well organised as always by Newcastle AC and to top it off we had a Bottle of Beer and Glass waiting for us back at the clubhouse – I might go and open now I have wrote this…..so Cheers !!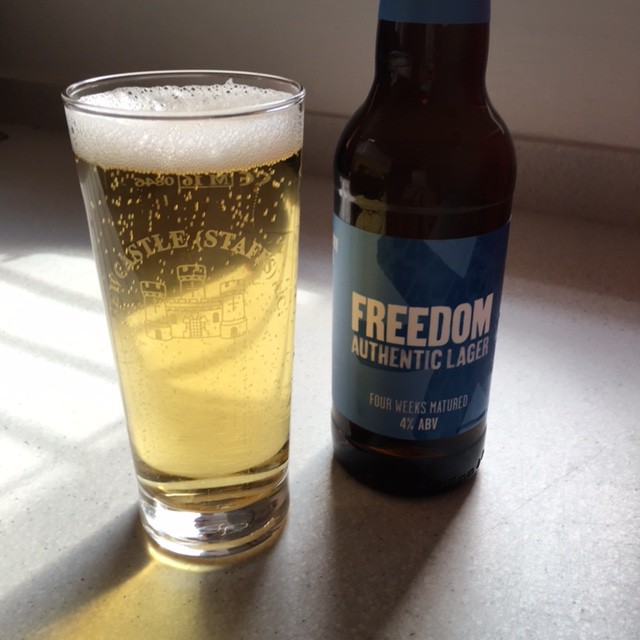 Full list of times below with some great age placings with Paul Swan 1st in for the club in 37:32 and 3rd M50, with Angela Mensing 1st lady for the club in 44:22 and 3rd F45. Jayne Ford won the F55 category and Pam Davies the F60 category with age placing for Richard Shaw (3rd M65), Joyce Edwards (2nd F65) and Margaret Shaw (3rd F60).
37:32 Paul Swan
39:13 Tim Hulse
43:36 Paul Phillips
44:22 Angela Mensing
48:44 Richard Shaw
48:59 Jayne Ford
50:01 Samantha Hodgkinson
52:13 Pam Davies
54:11 Mac McCoig
54:46 Sarah Reynolds
55:22 Clare Irving
57:05 Tim Clegg
58:20 Joyce Edwards
60:15 Margaret Shaw