Over the last few years I have been a spectator at the Sutton Park Road Relays.  I've been there before our daughter was born, I've been there heavily pregnant, and I've been there with Bethany.  Each time it's been to watch Ben run.  The one thing that I have never ever done is taken part in them.  Not this year.  I've finally ticked another event off my running bucket list!
I managed to persuade 5 victims, I mean teammates, to take part in the Midland Road Relays a fortnight ago.  We set ourselves the challenge of finishing in the top 25 which is what the men need to do to qualify for the Nationals.  We rocked home in 21st place and were bound for the Nationals.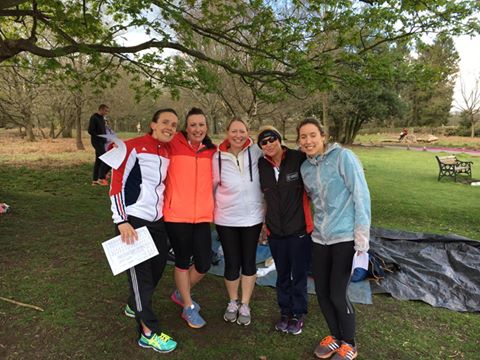 This morning I met Angela at the Bat Cave, got some groundsheets from the shed (the tent was in Brian Hall's garage) and we headed over to Sutton Park.  The weather was good, sunny but cold, the traffic was kind and we arrived in plenty of time.  I was off on the first leg and was dreading lining up with some of the fastest club runners that this country has to offer.  I started right at the very back as the teeny weeny suntanned girlies at the start line, who were resplendent in their crop tops and pants, made me quickly understand where I stood in the pecking order!
The first leg is a long leg (5.3 miles long) and you run the same route as the short leg for a large part of the race.  The most difficult part is when you reach the ice-cream van as this is where the course splits and the long leg has to carry on out for a mile and then back for a mile.  The race is on tarmac paths throughout the park and is undulating to say the least.  Anyway, back to the race.  I started off at quite a conservative pace as I didn't want to be struggling in the latter parts as I did at the Midlands.   The first mile was a 7.10, a large part of this is uphill so along with my slow start it was ok.  I passed three ladies in this mile and was feeling ok.  Mile 2 was a 7.05 and another lady was overtaken.  Mile 3 was 7.11 (not sure why), mile 4 was 6.57 and mile 5 was 6.40.  I finished with a bit too much left in the tank but was 9 seconds faster than at the Midlands so I guess you'd call that a pb (37.06)?!  I handed over to Anna Hollingworth in 41st place (out of 50 teams).  It wasn't a blistering start to the race but I did my best – I also wanted to give the girls plenty of people to chase!!
Anna was nervous at the start.  For those of you who haven't met Anna, she doesn't really train and she doesn't really race.  She was well and truly cajoled into this event!  She had a great leg (the short leg is 3.06 miles), she moved us up 1 position and was only 2 seconds slower than at the Midlands (22.38).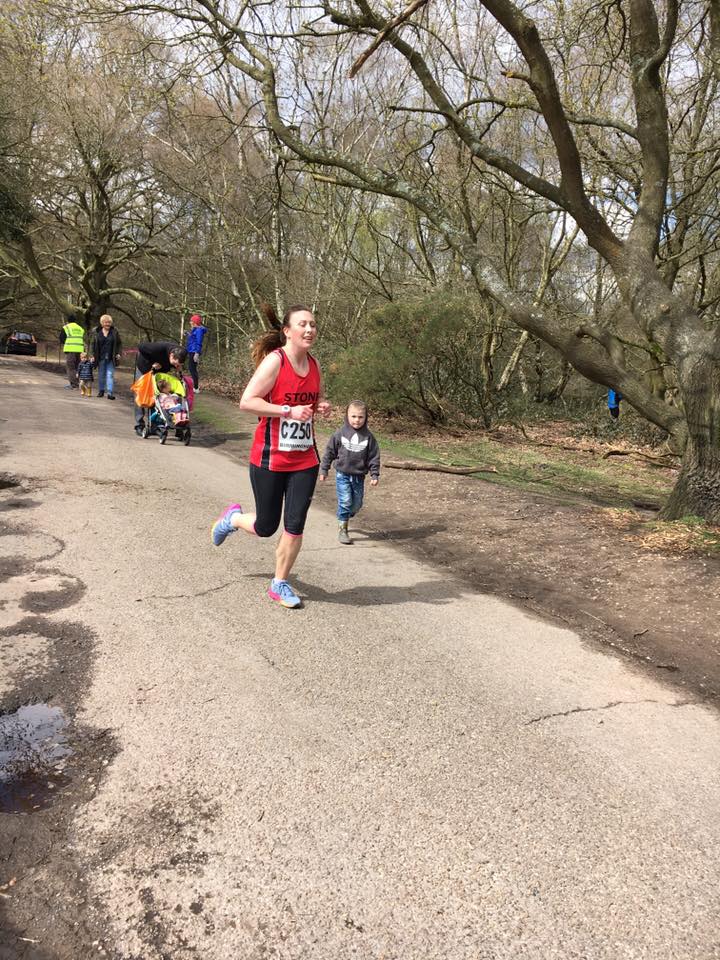 Sam Hodgkinson was next.  A relay novice.  This was another short leg and she came home in 39th position in a time of 24.03.  It has to be pointed out that today Sam almost out glammed our very own Ang.  Given that I hadn't even brushed my hair I was impressed with the hair and make-up.
Angela Mensing was next.  Like me, she had to do a long leg.  Unlike me, she absolutely smashed it.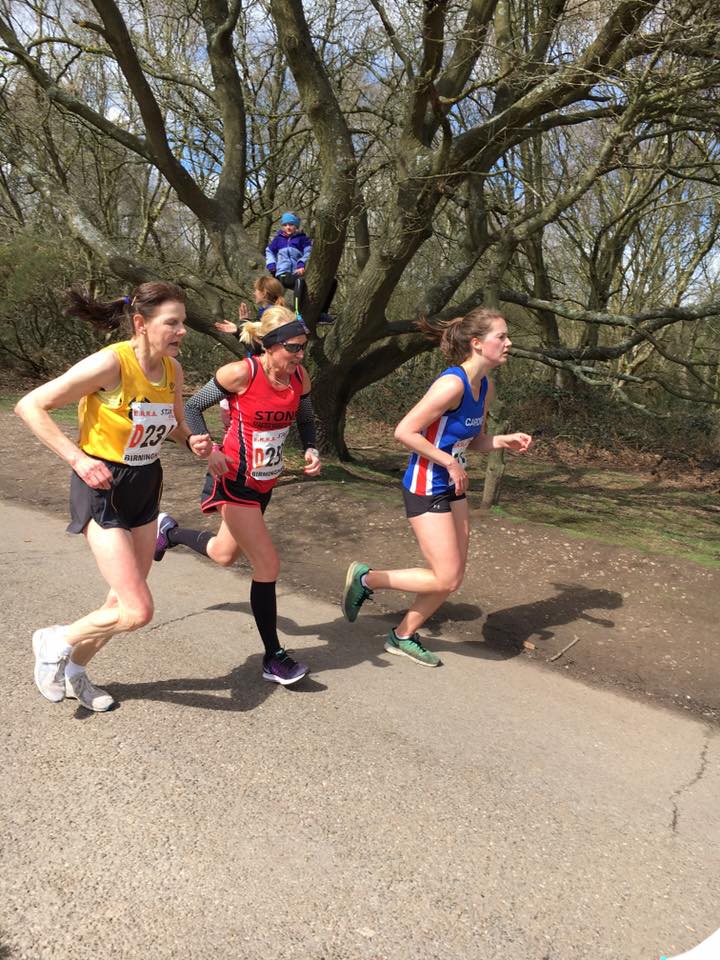 She moved us up two positions and knocked 34 seconds off her time from the Midlands (38.19).  She was also possibly the most glamorous runner out there.
Leg 5 was run by Amanda Bond.  Another relative newcomer to the club who stepped in at the last minute as we'd only got 5 runners on Thursday evening.  She's currently doing a diet where she can't eat sugar, wheat & grains, alcohol or caffeine.  No porridge for her this morning.  We dropped only 3 places down to 40th and Amanda knocked an impressive 28 seconds off her time a fortnight ago (28.35).
The glory leg was reserved for Pippa Steele who hotfooted it over from a birthday party.  The field had opened out a huge amount and so she was in no mans land for most of her short leg.  She chased down 4 ladies and brought us back to 36th place and she ran a very speedy 21.20 for her leg.  Her need to hurl at the end showed the effort that she'd put in hunting down the other teams.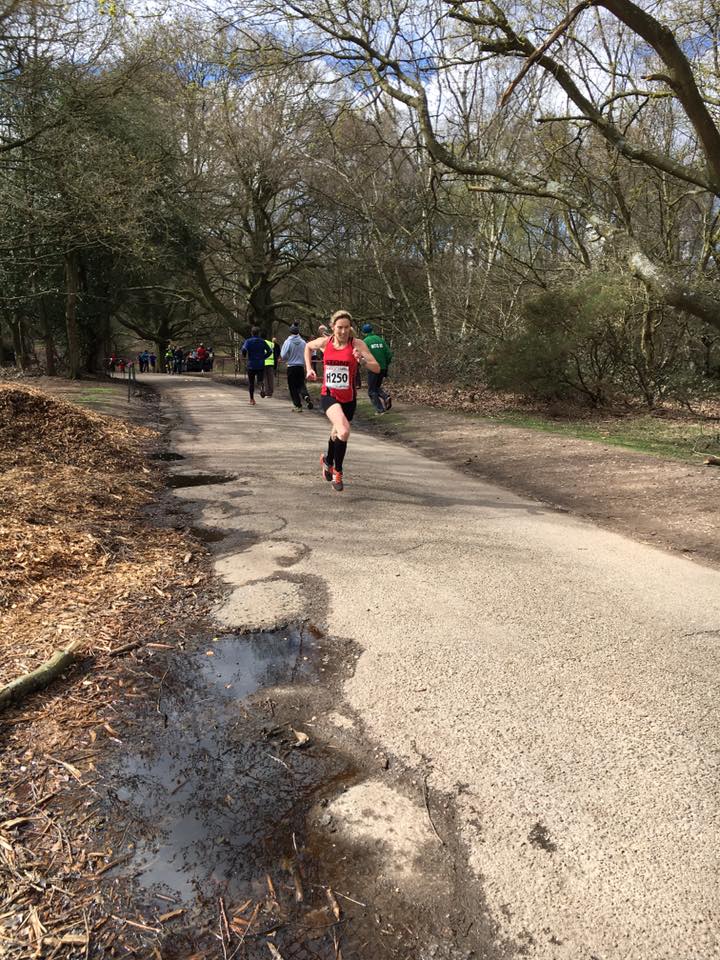 We all headed back to the tent area (the groundsheet) and Ang cracked open the packed lunch that she brings for us.  We missed Lisa Ashton's champagne this time but we all enjoyed Ang's famous baps!!!  Apart from Amanda of course as her diet wouldn't allow it.  And me, because I can't eat bread.  And Anna, because she'd headed home.  Ok, Ang, Sam and Pip enjoyed the baps!
The one thing that I can say about toda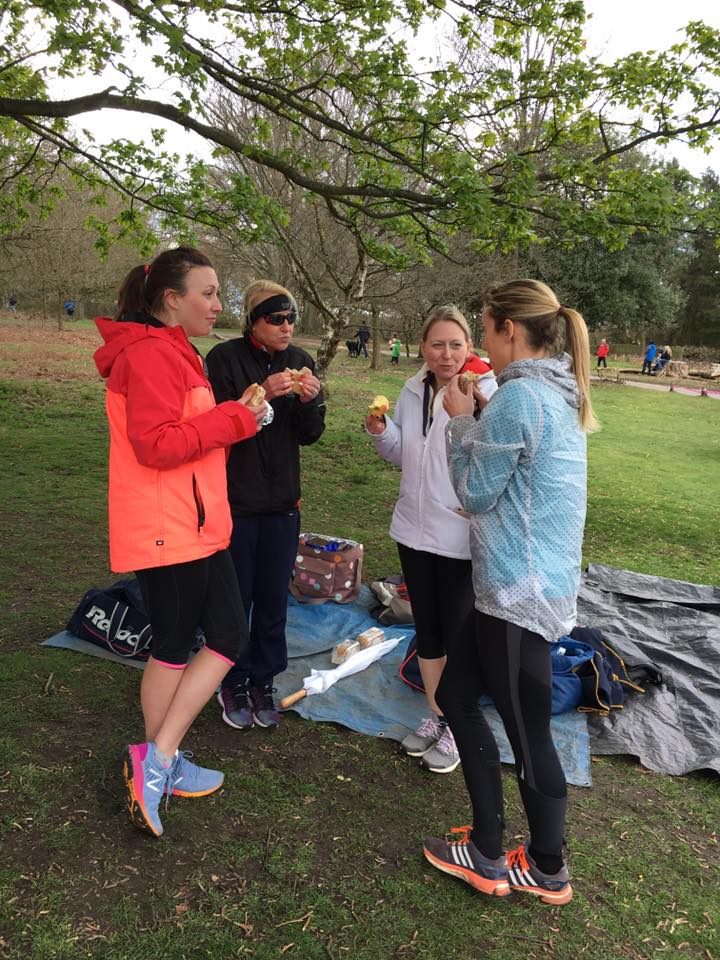 y is that I am truly proud to be a bat.  We were the only local team to run today and our team spirit is as good as I can ever remember.  We all raced our hearts out for each other.  Ang nearly did a Paula, Pip was retching, Sam felt like stopping but didn't, Anna moved a spa day so that she could race, Amanda pushed herself out of her comfort zone, and me?  I got to take part in the best road racing team event in the calendar thanks to these girls.
The autumn relays are in October.  Who's in?