If, like many thousands of others, you watched with pride as the 2016 London Marathon got under way on Sunday 24th April, you may be wondering what it's like to gain entry train and race in your first ever 26.2 mile event. Here, SMM's Emma Dutton notes her thoughts about all things Marathon and hopes to inspire first-time racers to tackle this famous distance…
"I only started running with the SMM beginners group about 18 month ago so running a marathon always struck me as a 'bucket list' kind of thing to do, like skydiving or some such madness; I've watched the London Marathon for years on TV and, following a bout of jovial madness amongst a group of friends, put in for a ballot place in 2014. When the magazines landed that October, I was the only 'lucky' one receiving the famous 'You're In' title and all my friends 'missing out' (not so secretly, they were relieved!)
Fast forward 12 months after a deferral for a possible operation and training time for the 2016 VLM raced round. Being a member of such a fantastic club like Stone Master Marathoners is a double edged sword to a degree – lots of varying opinions can muddy the waters however there really is no shortage of insight and support if you have questions about training and racing in general.
Knowing my own mind and needing a rigid plan to follow, I settled on a 17 week schedule that incorporated 3 shorter runs of tempo/hills/intervals and the obligatory long run on Sundays. I supplemented this by teaching my weekly spin class on Thursdays. One of my biggest tips to anyone considering a Marathon is, if you require support, to plan around the club training runs and make arrangements to meet people – it makes wimping out virtually impossible and you'll keep getting those miles in!
I have to say that, if anyone thinks training for a spring marathon in Britain is glamorous, they're mistaken; snow, heavy rain, freezing temperatures, it all combined with dark mornings and nights which made training tough. That said, I found it easier to head to training knowing I had two other first-time marathon runners in Julie Boulton and Julia Dando suffering in exactly the same way as me, plus many people who would ask week in, week out how training was going and offer their encouragement.
I created a series of A4 training pages by month and colour coded my running, highlighting in green where training went to plan, orange where I modified things to suit and red where training was not possible. It allowed me to still live my life, see a few gigs and plan family things alongside getting the running in. I'm hugely proud to look back at the notes I made and can honestly say I never wimped out of a training session; I had to alter some plans due to injury, most notably in the last 2 weeks where I couldn't run at all due to a foot swelling. I suffered constant blisters on the balls of my feet (sexy) and various bits of tendinitis and inflammation so had to substitute some runs for spin sessions. But I stuck to the plan fairly rigidly, as anyone who knows me won't be at all surprised to hear!
As the date approached, I decided to book into a hotel from Friday to Monday and make a relaxed weekend of my trip. The Expo (where you collect your number) was fantastic but I was careful not to spend too much time wasting valuable energy. I carb loaded to my back teeth and hydrated where possible. Sleep went well the night
 before and race day was here! I headed off to Charing Cross with the many other nervous runners to make the 20 min journey out to Blackheath. Once there we walked over to the entrance, then into the waiting area to visit the loo, drop off bags and get sorted. VLM is clearly a well-oiled machine and this all ran like clockwork.
From Pen 9 at the back I believe my starting pace was where I needed to be, aiming for around 10 minute miles. The crowds were amazing, cheering all the way but I was slightly frustrated that, even at my modest pace, I was having to really weave my way through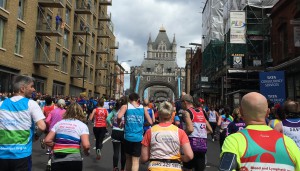 slower runners to try to hit my target pace. All the London sights amaze, as you'd expect – full on drum bands bashing out beats, huge crowds and finally some awe-inspiring landmarks. For me the Cutty Sark, Canary Wharf and Tower Bridge were highlights, the latter being simply mesmerising. I remember looking up at it as we crossed with a tear in my eye thinking "I just can't believe I'm doing this!" I still well up thinking about it now!
At mile 14 my cheering squad of Michelle Miles and Anne and Jen Griffiths were on hand to give out hugs and reassurance. I actually nearly missed them and just caught sight of them and ran back, much to their surprise! Anne told me I looked amazing and soon again I was off. And, this is where I hit a glitch!
I'd needed the loo since mile 1 and really thought I wouldn't make it to the end so chanced stopping at 14.5m for a pit stop. 11 mins, 2 unusable portable toilets. and a last minute decision to squat by a wall later, I was on my way again but paid the price. My legs were like lead and I was battling through slower runners to find any pace. You can see the dreaded toilets in this screen grab from one of the elite runners on BBC iPlayer and I'm not proud to say I've wee'd on the streets of London but hey, if it's good enough for Paula Radcliffe, it's good enough for me!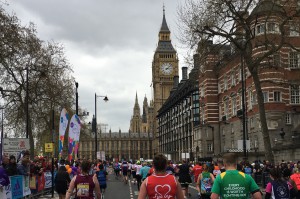 Towards mile 21 I recognised the elegant gait of Julia Dando and ran to her for hugs: what a welcome sight she was! I gathered her in to my waiting cheer squad and we all embraced, Anne force fed me a shot blok and water and off we went! I won't pretend the last 8 miles were glamorous: legs felt like lead and I was resentful of that toilet stop as it became clear I just couldn't find speed in my legs to get under 5hrs. I decided to enjoy what was left, as much as possible, even taking a photo of Big Ben as I approached.
The turn into the Mall was everything I had dreamed (literally, just nights before) it would be and I picked my part on the finish line for least people in front of me for a great finishers photo (vain). I lifted my index fingers to acknowledge this years push to #oneinamillion and that was it; 5hr 4min! I am not ashamed to say I cried as I went to collect my medal: relief, frustration but overwhelming pride in what I'd achieved.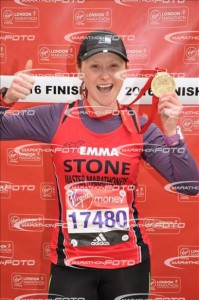 Running the marathon has taught me so much;
1. Don't short cut the training plan; you get out what you put in
2. Personally I would overestimate my time very slightly in future to start perhaps 1 pen higher up and stand a better chance of getting a strong pace from the start
3. Wee early on and quickly!
4. Agreeing a strategy on where to see friends and loved ones on the course helped me keep pushing on for guidance and support
5. Allow yourself to 'feel' the whole event – the sound, atmosphere, the exhaustion. It truly is a personal endeavour to behold. And that feeling on the finishing line is like nothing else!
6. Prepare to catch the bug
7. No matter where you start with your running, with adequate training and commitment, you can achieve anything you set your mind to
I know I'm not the fastest runner and don't doubt everyone could comment on the 04min part of my finishing time – trust me, I've agonised over it and will probably do so for a while yet. But I gave my all on the day, felt real pain and did my very best. I knew within minutes of sitting down waiting for the gang to get to me that I'd definitely do another and would recommend London to anyone! I simply must beat that time!
Huge thanks to everyone; my family, friends and fellow bats for the support. It's been an amazing journey and I've LOVED it; so much so I feel slightly bereft to have left it all behind. If anyone wants to talk to me about my experience I'm around on Facebook and at club runs: I will even show you my medal!
And to think, I couldn't run a 5K when I first started jogging 18 months ago and look at me now! I'm as proud as punch! The ballot opens on Monday 2nd May – who's with me for London 2017?!"
Emma ran the London Marathon on behalf of the Douglas Macmillan Hospice – if she has inspired you, please consider a donation at her Just Giving page here.