At the moment it is non-stop racing with the Thunder Run coming soon quickly followed by the Staffs Knot 5 and the Meerbrook 15k but today was the turn of the Trentham 10k.
Plenty of people recall the original Trentham 10 when it was a 2 lap 10 mile course but a couple of years ago it was rejigged to single lap 10k race meaning only one trip up past Beech Caves.
I last did this race 2 years ago but missed last years due to holidays and also it was a reserve NSRRA race last year so no points up for grabs !
After my successful jaunt round Cheadle last week I feel like I am running well and relatively comfortable so I even let the family come and watch at Trentham
Usually this is quite stressful as I want some sort of routine before a race but this Sunday morning I still got up early enough for Porridge but  then sorted the kids out and made sure they were dressed and ready for my planned 9:30 departure. Guess what ? We left on time….shock…horror (suppose I better return the clocks to the original time now…..I didn't before you shout at me !)
We arrived at Trentham and I sorted my number out and started chatting with the fellow Bats, Anne-Marie had thought it was a good idea to run up in preparation for Thunder Run next week, I toyed with the idea then dismissed it quickly, I think Anne-Marie wish she had also dismissed the idea.
It is always a bit sketchy before the race because everyone prepares slightly differently or warms up in their own way so I left the wife chatting to some of the girls and went off for a quickish 1mile war up to get the bones moving, during the warm up I quickly discovered it was much warmer than anticipated so I removed the under armour and went with just the vest. (its okay on a 10k I don't get any friction on the chest area so took the chance even though I got the raised eyebrows from my darling wife).
Whilst warming up I checked out the competition, same crowd as last week and no sign of Chris from Rugeley, could it be another 50 pointer ? However, with the climb to Beech in the mix nothing can be taken for granted especially with Ollie Clarke closing in quick (is this okay Ollie ?). I also found out the start had changed slightly with the rapid downhill past the school changed to an uphill around the housing estate, it was a bit manic last time so hopefully this is a sensible move.
Anyway quick cuddle with the boys (and wife) and I made my way to the start, I am becoming to realise I should start a bit closer to the front and go off a bit quicker rather than jog round for a mile before starting up.
Quick speech from Ken mentioning something about car drivers being 'silly' I think that is what he said and then we were off. The quick left turn into the housing estate was a bit of a shock but off we went doing a loop for about 500 metres before rejoining Winghouse Lane and making our way to the bottom of the climb up to Beech.
A quick mention to my fellow D runners at this point as with the NSRRA you run alongside the same guys week in week out and it is all in great spirit and good fun so today I set out with Adrian (Cheadle), Matt (Trentham), Jon and some guy called Ollie (Newcastle), Steve (SC), Kevin (SMM) and a few others, there is also one lad Nick in Group E who has been running with me the last few races and is looking good for promotion this year.
We all started the long haul up to Beech and myself and Matt ran side by side most of the way until closer to the top Matt started to drop back, it is a good climb and when you get right to the top you have a quick 100 yard downhill before another little climb back to the main road. As we turned onto the main road myself and Nick found ourselves with a nice little gap so we use the big long straight to recover a little after the climb, you forget quite how far a mile is until you see it on a straight road….it goes on for miles….well a mile ! At this point you just need to focus on your own pace and not look too far ahead, so on we plodded and discussed tactics for the next couple of miles as I was leading D and Nick Leading E.
When you get to the A51 roundabout you turn left and there is a gentle climb for about 500 metres maybe a bit more but once you get to the top it is as good as downhill for the rest of the way so a bit more effort here and you have done the hard work. It was when we got to the top Nick said this is where I leave him, he tends to stay with me for 4 miles then drops back but I encouraged him on for about another half a mile before he started dropping back, I also took the chance to have a sneaky look back to see if I could see any of my competition, relieved to see they were not hot on my heels.
As we turned left back onto Winghouse Lane I did pick up the pace a little but with the number of races coming up I definitely decided to hold something back as I wasn't going to smash any records by knackering myself up so when Captain Bernie hollered out my name I thought it was only fitting to holler back, a couple of runners next to me commented how did I have the energy to shout…oops.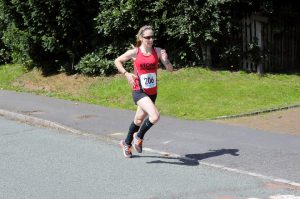 Hearing our shouting spurred on Pippa Steele in front of me and she put some effort in, she needn't have worried I was quite happy trundling down and finishing a good minute or so faster than the previous time and leading group D runner.
Although it is quite stressful having family present it is always nice to see them towards the end and they give me and the rest of the Bats a good cheer as we finished with a downhill spurt, however for a second week running I walked the last couple of steps – saving myself for Thunder Run (every second counts …..what a pants program that was!).
We got branded shoe bag as a finishing memento this year which was unusual and actually a very useful addition to the kit so kudos to Trentham for this.
I then hung around and cheered on my fellow runners, Bats and all, with the various handshakes, pats on backs, and congratulations passed round on what turned out to be a very hot day, I even understand my children had ice creams and didn't bother getting me one…..how rude !
Sixteen Bats flew round past Beech with Paul Swan finishing an amazing 2nd behind Amy's husband !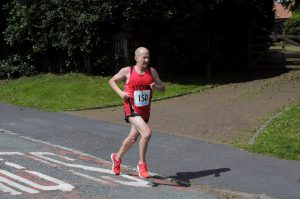 Pippa Steele was the first lady bat with Tim Hulse sandwiched between them. I understand Mac won his Group again along with myself  and Emma Dutton won Group W, Kevin won 1st M65, Pam won F60 and I can't figure out the younger women age groups but looks like we occupied a lot of the F35 and F40 places in the NSRRA tables if not overall – well done to everyone. I will try and get the results on the website asap but full results are up on the NSRRA site and Bryan Dale's Race Photos (you will have seen photos on Facebook already).
All in all another excellent turn out with great support from fellow bats on the course, great turnout and another new member racing with us, well done Victoria Hughes  (you'll need to check the name with Bernie as he shouted something different.)
So bring on Thunder Run….