Race Committee Co-ordinator and Chief Race Marshal, Brian Hall, has penned a piece to discuss our yearly races and how all members can play their part in keeping our club great!
---
I'm sure that when you see the emails from me begging for assistance at our events, your instant reaction is to think "here we go again – I've got to take the dog out, or wash my hair this weekend", much more vital things to do than standing on a junction watching runners jog past without a word of thanks.
Please let me take a few minutes of your time to explain why our races are so important to our Club and to you, the members.
First, for the newer members, the events which we stage or participate in are:
Spring Treble Challenge – the brainchild of one of our more senior members David Upton. As the name suggests, this is a series of three races on consecutive Thursday evenings usually in April. These are tough, off-road events each 5 to 6 miles long and have become very popular with local runners. Venues this year were Kibblestone, Milford Common and Barlaston Downs
Westbridge 5 – usually in the first week of June and initially linked to Stone Festival, a flat, fast five mile loop along the canal to Aston and back categorised as multi terrain. This race is in the North Staffs Road Runners Association programme of races and is favoured by club runners and fun runners alike
Also in June as part of the Stone Festival and to benefit the local community, we help to organise the Steeplechase and Dog Derby on the Monday evening of Festival week
Flying Fox 10 – a ten – mile road race around the picturesque lanes of Standon, Chapel Chorlton and Maer. This is usually the last of the annual NSRRA races and attracts a field of between 200 and 300 runners
Flying Fox Marathon – in 2017 we're undertaking a huge commitment by organising our well-loved Marathon.
So, what is so important?
Primarily, income from the events, other than the Festival fun runs, is a vital supplement to the club's finances and without this your annual subscriptions would at least double. The effect of this would, particularly in today's climate, no doubt deter members from joining or renewing their membership. It is also possible, from this income, to donate to worthy charities and each year we give hundreds of pounds to charities usually nominated by the various Race Directors.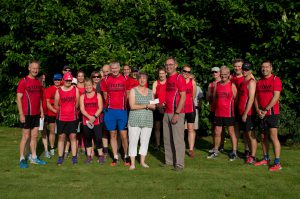 Organising races and similar events is also a good source of interaction between local clubs; we often exchange ideas and information at these venues which gives a useful insight into the world of running around us.
By no means least, the team spirit which is generated by all who take part in organising our events is excellent and spills over to the runners who all seem to enjoy themselves, no matter how tough the terrain! Your assistance is truly appreciated by the runners, the   management committee of the club and particularly by me. The numbers helping, certainly over the past couple of years has grown, making my job easy. We strive to make the events as professional as possible and this can only be done by working as a team, but it is vital that we have volunteer reserves for the future.
Please remember that it is a rule of the club that all members should help with at least one event each year, a couple of hours out of the whole year is surely not too much to ask!
If you have not yet assisted and wish to do so, there are not just races but also several social events; just ask any one of the organising committee who will be delighted to point you in the right direction.
Thank you all very much for your help in the past, and in the future. It is your club after all! And best wishes for the forthcoming year.
Brian Hall