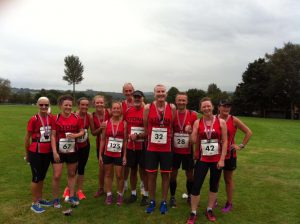 Hello again, its been a while since I last managed to get 5 minutes to write a report which meant I missed one for the Dave Clarke 5 so here it is in a nutshell.
5k, lots of Bats, Danny Soltys challenging Amy Gamble's husband, footpaths, canal, lap of field, lots of pain but soon over. I managed to scrape 49 points in my group which was ok and all the results are on the website – job done !
Anyway onto this weekend – a Saturday run at 3:30 in the afternoon, this had its plus points as it meant not having to watch Stoke and also (don't tell the wife) we had family over which meant I had to nip out for a few hours.
As regular readers will know myself and Anne-Marie tend to get to races early and this week we had to collect Joyce on the way so we pencilled in an early pick up, however, when Anne-Marie arrived at about 20 to 1 even I was surprised as I was halfway through my lunch and not dressed for running. Anne-Marie was an hour early so I sent her packing (she is trying to blame the kids for wanting their lunch early).
So at about 1:45 Anne-Marie reappeared and we set off to Ipstones – I haven't done this race before but I knew Ipstones was in the Churnet Valley so there was bound to be a hill involved somewhere. We collected Joyce, arrived at Ipstones and collected numbers and our free gift (plasters or a cook book!) and then did our usual wandering around for an hour saying hello to fellow Bats and making excuses as to why we were just taking it easy and not being competitive.
A short warm up was involved and I spotted a few D runners, including Chris (Rugeley Runners) who is leading the way, deservedly so and Adrian (Cheadle) but not many more, another plus point of a Saturday afternoon run perhaps.
3:30pm, quick announcements, then we were off with a lap round the field just to lull us into a false sense of security before making our way out onto the road. It seemed a very serene start so I guess everyone knew what was coming up ! Once out onto the road it started to settle down with it soon becoming apparent that there wasn't the normal number of D runners but we were all grouped within a few metres of each other as we began the climb.
I don't mind a gradual climb early in a race as I find quite a nice rhythm and plod on and as it was I was passing the D runners including Chris and after the first mile was the frontrunner for my group and could still actually see the leaders ! However, I was in a similar position at Meerbrook after a couple of miles so I knew Chris wouldn't be far behind but I kept pushing on and tried to enjoy the quiet (apart from the sound of runners heavy breathing and stomping feet) !
As we turned at the top of the hill we flattened out before a big long decline down a farm path and actually enjoyed it even though I was pushing harder than normal. Now being a 5 mile race there is not a lot to tell you about and before long we were back on the road with over 3 miles in the bag, now I had been warned there was a tricky hill about 4 miles in and so it appeared. I looked over my shoulder and sure enough Chris was there and I had a flashback to Meerbrook where Chris passed me on the last climb and as you know it is near on impossible to pass anyone down Gun Hill. However, Chris had run SC20 last week and we had only done 4 miles so I pushed on hoping to have enough left for a decent last mile and potentially a sprint finish if it came to it.
As we turned the corner we could see the cars on the field and the finishing runners so I had increased the pace and as we turned onto the field I could see the clock just passing 34 minutes so I gave it my all to try and get in under 35 minutes, if I was passed here it wouldn't be for lack of effort.
As it was 34:59 official time and managed to finish a few places and seconds in front of Chris for my 50 points. It might be enough to guarantee 2nd but as we have only raced 5 of the races against each other (Chris 3-2 up at the moment) Chris has managed more 50's in the races I haven't done so unless I can turn over the deficit I will probably be pipped to the post but let's give it a go. (Come on D runners, do me a favour at St Thomas and take some points off Chris whilst I drink wine in Austria!!)
After I had managed to get my breath, congratulate Chris and Adrian who wasn't far behind (the top 3 D runners) we then cheered on the remaining Bats as they finished.
We managed to get 3 NSRRA group winners by my reckoning – Bonnie, Mac and myself and Joyce was 1st F65 and a couple of second placed age group, Jayne and Kevin.
Moment of the day goes to Michelle Miles who put in an amazing sprint finish to beat 50 minutes !!
A great turn out for the Bats and some great photos by Margaret Shaw which are all on the facebook page (pinched a few for this report).
Enjoy St Thomas and see you all at Congleton.
Go Bats !!
Paul