Spring Treble Race Report – Fabien Carbonell
This is the first leg of the Club's spring treble series, which is a series of 3 races that has now been running for 15 years and is still held in memory of our late member and organiser of the event Dave Upton. Having been a member of SMM for about 4 years, I actually always managed to miss and/ or avoid the event, (with always very good reasons to bring forward…) principally because cross country has never been my favourite.
I decided to run this first race because I felt that I needed to support the club that I have missed for the last year, after a succession of incidents, injuries and professional commitments. My return in the competitive scene has been with the Stafford HM, first 'long' distance in 14 months. 
It was lovely to see all the members on arrival, mainly on marshalling and organising duties, and went on to register. One of my first questions was about the distance. The reply was a worrying '5 and a bit…' which prompted the memory of a similar optimistic answer used to lure me into a cross country event (Park Hall) back 3 years ago where 3 laps were required instead of the 'only 2' that I had been told.
Having arrived with time to spare, I went for a warm up jog in order to assess some of the course, wondering what kind of trainers to wear, road or trail. I decided to go for road and went on the starting line.
As the race started I realised I was so far down the pack that I would have to pass slower runners, which wasn't easy and struggled to find a good pace in between sprints when gaps were forming amongst other runners. After half a mile and the first two hills, I settled to a more familiar pace and started to enjoy my race. The location is lovely and I kept thinking about coming back. The first half of the race was actually very pleasant, but I knew that something wasn't quite right as it was more downhill that up… and the surrounding scenery clearly wasn't flat! What had gone down inevitably had to go back up again…. I caught up and passed Paul Philips (who obviously knew what was coming) and the fun bit arrived : a succession of narrow paths in a dense wooded area, with dips, roots, some mud pits, going up and down. It was a bit of a challenge to maintain the pace whilst looking where I was going! There were loads of marshalls along the way, even in the most unlikely places, offering great support.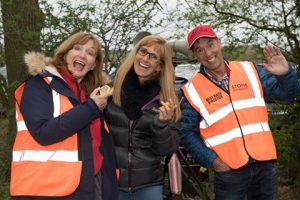 Then they came, fairly easy at first, then steeper, vicious, unnerving as no end was coming in sight… the dreaded hills! I overtook a few more slower runners, even some walking. I was thinking how bad it was to be walking on such a short distance race… before I stopped myself! Fortunately my fast walking was keeping up with the other's slow running, but it wasn't enough and Paul caught up, passed me and I soon stopped entertaining the hope of catching him up again… At about 4,5 miles we were back on ourselves on the common starting and finishing part of the course, triggering a faster pace. This is also one of highest point of the course, which offers a fantastic view over rolling countryside… but also a treacherous part bringing you back to reality! Finished in 40:50 at my watch, with an overall pace of 7:50min/mile. Still a long way away from any PB but not bad for a Thursday! The course length was 5.22 miles, which you will find is an accurate description of '5 miles and a bit'. I still don't like cross country very much, and I'm still deliberating about entering the other 2 races of the series. All depending the quality of the
excuses I'll have on the day. Although, if the surroundings are as good as Hanchurch, it could be a very easy decision!
**Entries for both Milford Murder and Barlaston Ups and Downs and still available – click here >> **