As a runner who doesn't really excel at cross country, my main focus behind taking part in this year's NSCCL was primarily to help the club out and also get some race fitness back into my legs after a long time out. The first round at Winsford spoilt us with gorgeous weather and perfect conditions (for myself anyway), although it was probably a bit too warm for most runners. The course was barely XC. Solid ground due to no rain, so no mud whatsoever. I loved it haha and I performed well to finish 11th and record my best XC position ever! But that was probably due to it not being a true XC!!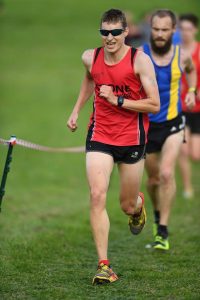 When results were all in, it was a surprise to find that Stone MM were sitting at the top of division 2. What a fantastic club effort. I think I can speak for most people at the club by saying, promotion probably wasn't in the mind at the start of the day. This set the desire and motivation for the remaining 3 races.
Next up was Stafford Common. The conditions couldn't have been any different than at Winsford. We were greated with cold, chilly weather and I had to opt for tights myself. Cold weather and myself don't get on haha. The course however still didn't contain any mud and it was another good performance by the club, however we found that we had slipped to 2nd overall. It didn't deter us though and actually made us want to push that bit harder.
By the time Park Hall came around, I found myself extra motivated to help the club regain the top spot and I gave it my all! It was a nice clear day, but very windy.
The breeze actually helped somewhat by giving us all a boost up the hill on each lap. (Or was that Bernie's homemade mulled wine?) Either way I felt energized! Another strong performance by the club and although we didn't get back on the top step, we had opened up a very nice margin over 3rd place. I left Park Hall thinking I'm actually really liking XC now. 3 races done and not a single bit of mud, awesome!!
That soon changed though as the 4th and final XC race at Rodbaston was a mudbath. 0 degrees and freezing rain. It was so cold I had to wear a waterproof under my club top.
I opted not to wear spikes as I wanted to protect my calves. Big big mistake. My 'barely' trail shoes were completely hopeless. I spent the entire race tip-toeing around the bends and slipping every time I put the power down. Eventually I skied my way to 67th place and by god was I glad that was over! This was the true XC that I'd completely forgotten about. Anyway I soon had a big smile on my face as the results were in and we had done it! Stone Master Marathoners had secured promotion to division 1 with the 2nd placed team overall. It felt great knowing I had done my part in helping the club secure this promotion and I had discovered a new found likeness to XC. Yes despite the cold, rainy, windy weather most XC's bring, there's a different feeling and togetherness that road running doesn't give you.

Fantastic effort everyone! Bring on 2019!!
By Danny Soltys