Rewind the clock back to September last year… It was a Thursday night club run and Emma Phillips was telling me about a trail half marathon she had done earlier in the year in Wales, it sounded great and the very mention of red kites being fed as the race was finishing sold it to me and I thought I must go and give it a try!  'It'd be a nice day out if nothing else!'
So I did some research and entered the race soon after, followed by Becky Southall and Nikki Towle. Upon mention of the race to both my Mum and Glyn Pattinson, they signed up too! So with Emma and Craig also going we had a good group of us to enjoy our day trip!
Fast forward to March 2019, and having followed the Facebook updates from the event page we were all getting really excited, and a little nervous too not knowing exactly what to expect!  Once the hype of Stafford half marathon had died down it was time to hatch a plan of action (and of course check we had everything on the kit list!)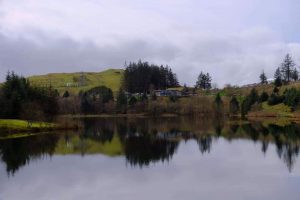 It was an early start for us all, the weather was looking good and on arrival we were welcomed by friendly marshals and race signs in both Welsh and English which made me smile. The scenery was stunning, overlooking the lake and once out the van for a better look, it was clear we were in for a treat.
Over to the tent for registration and on the board were the names of the 150 entrants. I collected my number and saw I was for once not the only Nia on the start list, this was when I knew I had arrived in Wales! The drawstring goody bag had energy chews, reusable cup, an energy drink and the race t-shirt. We bumped into Emma scoffing a sausage bap who was so excited and got us all hyped up! It was back to the van to get kitted up and meet Glyn and Becky for a team photo!
The race briefing followed and then it was a walk up the hill for the start. Surrounded by what looked like many seasoned trail runners we were off! The first few miles were easy to run on and myself and Glyn got swept away. I could definitely feel my legs were still somewhat weary post Stafford Half but it wasn't going to stop me enjoying the event (it didn't however stop me moaning… Poor old Glyn)!
Our feet and legs were quickly muddy/wet but it was all part of the fun. 3/4 miles into the race and we took a steep climb through the forest then out onto an open field with the most spectacular views. 5 miles in we stopped for a quick drink, energy chew and a photo opportunity.  This set the tone for the race and we decided to take numerous photo stops as it was just too beautiful not to!
As the race continued the terrain became more varied, lumpy grassland, boggy fields, shale paths, cattle grids, stiles, gates and woodland were all featured. Oh and a man running barefoot who overtook us! The marshals were just wonderful, so encouraging and upbeat. The course was clearly marked so any worries we had about getting lost were quickly forgotten!
One of my favourite sections was running down through a stream and some quite technical trails then at 10.5 miles we entered a steep grassy field. We walked here taking some pictures and when we turned around I said 'S**t a photographer, run!' Needless to say as soon as I passed him I walked again! The field flattened out and we got going again knowing we didn't have far to go!
The final push through what seemed almost pitch black woodland and steep climb for the last half a mile or so was tough going but wonderful, the views once again were incredible and hearing the noise from the finish area pushed us on! A steep descent and into the finish! What time did I do?! It didn't matter, it was great!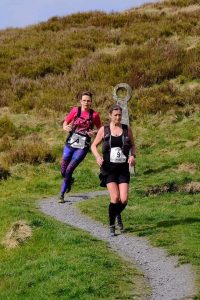 The sun was out and a short while after we spotted Nikki and Becky with beaming smiles heading downhill to the finish! Bat wings and all! They held hands and crossed the finish together! The atmosphere at the finish was just lovely. My Mum was next, she entertained us by doing her own version of bat wings on her downhill finish! She had been poorly prior to the race and wasn't sure traveling up if she would even run, so I was so proud of her for getting though it! Emma was a tail runner and she was equally as happy as the rest of us as she finished. We didn't see Craig as he was still out on course assisting a visually impaired runner.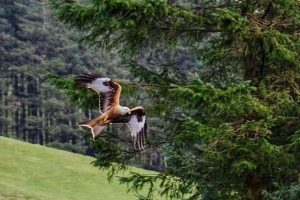 The presentations took place and we were in awe of the winning times! Next were the red kites being fed over the lake so we all assumed our positions. (Ours was by Nikki's van with a brew and a Jaffa cake). It was an amazing sight and Emma had been lucky enough to feed them herself the day before, a thank you gesture from the organisers.
We said thank you to the race organisers, Karen and Ian, before heading back with a full heart. This race was simply stunning, well organised and made us all remember why we run. We all have goals and PBs to beat but sometimes appreciating your surroundings and friendships through this wonderful sport is all that really matters.
To quote Emma Phillips 'This race was not about times, pressure or conventional racing, it was simply about running for the soul'. 
See you next year Silver Trail!
Nia