Race Report by Anne-Marie Mountford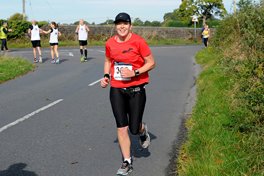 While everyone else were preparing for Stafford Half I went looking for additional mileage in preparation for London so booked myself in the Ashby 20.  I ran it last year and enjoyed it.  I ran Manchester Marathon on the back of the training that I'd done for this race (thanks Julie Ebrey for that conversation).  This year Ashby was to be treated as a training run for London.  The week leading up to the race was a nightmare; I was working more hours than a factory cat some of which involved 'lugging' computer equipment around so no resting for me.  I drove to the race alone trying to think of how I felt that the hills were nothing more than little bumps last year and remembered my sprint finish hoping that I could recreate this run or even better it.
I arrived in plenty of time (as usual) and sat in the car reading some papers for work trying to calm my nerves.  I spoke to a couple of people who were equally as nervous.  Time then to begin the 15 minute walk to the start.  I'd designated a Stafford Half 2012 t-shirt as one to wear and chuck at the start to keep me warm.  How I wished at this point that I was running the Half.
We all walked up the hill that we knew that later on we would be running down towards the finish.  The gun went off and off we went.  At this point I had not seen any familiar faces but at about 4 miles in I spotted a Trentham top so decided to catch her up and say hello.  I don't know her name but after discussing Marathon times she was clearly a better runner than me and when she said that she thought that she'd gone off too quick I thought oh poo (polite version as anyone who knows me will vouch that I never swear!) I think that I've gone quickly too.  Now I don't know whether it's all in the mind or whether I had taxed myself too early but I paid the price for the rest of the race.  The hills that I thought were 'easy' last year must have been inflated by some nasty Marshall as I fought hard to get up.  Ashby 20 is a lovely race set in the countryside; it is a two lap, undulating course.  The Marshalls are fantastic and the drinks stations are well stocked and plentiful.  I tried to enjoy the race keeping in mind that it was just a training run but all I could think about was getting finished and getting my hands on the very useful hoody and the very appetising cheese cobbler which you get in the goody bag.  I was long dropped by the Trentham lady and other than the odd sentence or two with likeminded fools I was on my own.  By 19m I'd had enough and I do apologise to the Marshall who said in the standard phrase book for Marshall's "not long now" when I replied "b****cks, there's another hill in the last mile".  In reality it's only a slight incline through the streets towards the finish but with cement in my trainers it was hard work.  No sprint finish for me just a thanks to the gods for getting me round.
After greedily eating my sandwich, having a free sports massage and admiring my new sportswear I sat on a bench in the sun (no need to rush home as I'd got my ironing waiting for me), I pondered would I do it again next year, probably.