Race Report: Richard & Margaret Shaw
This year the Half Marathon was advertised as part of Bungay Festival of Running which also included a Marathon and for the first time a 10k. All three races follow the same route with the Marathon runners completing two laps of the course, Half Marathon one lap and 10k peeling off at around 3 miles and rejoining the main route at approx 5 miles. All three races were sold out prior to race day. All chip timing.
Bungay is an attractive village situated centrally on the Suffolk/ Norfolk border in the Waveney Valley and is just over 500 miles round trip from Stone. You may well ask, why compete in a Half Marathon such a long way from home? It is a race we have previously seen advertised and Suffolk is where my Mother was born and many of my relations still live. Also, this year as I have reached the ripe old age of 65, I decided to run a different race in a different county each month.The Bungay Marathon was one of the many Marathons run by our late club member Vernon Olivant and was included in "Vernon's Stupid Heroes League".
The races start and finish on the outskirts of Bungay with the Marathon starting at 9.00am and the Half and 10k at 11.00am. The route skirts the villages of Mettingham and Barsham before reaching the half way point in Beccles. The runners snake their way through the quaint streets of Beccles then over River Waveney which is part of Norfolk Broads into open countryside through the villages of Gillingham and Gelderston then at 11 miles the run takes you along the old railway line back to the finish in Bungay. The route starts in Suffolk, runs into Norfolk and back into Suffolk for the finish. A scenic route but not a P.B course.
The winning times were as follows:
Marathon. 2:50:22 runner from Ipswich Jaffa Running Club
Half Marathon 1:17:49 runner from Colchester Harriers
10k 35:32 runner from Colchester Harriers
My Chip time was 1:54:05 finishing 229/502 with Margie 2:20:27
A good club run as 10k and Half Marathon runners set off together for first 3 miles also the Marathon runners are at the start of their second lap roughly at same time as we start, so at some point all are running together. It was one of the hardest Half Marathons I have run and now know why it was included in the " Stupid Heroes League". However, a very enjoyable race and good to run with runners from numerous running clubs not usually seen in Staffordshire.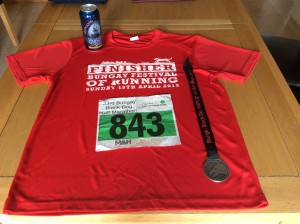 All finishers received a well stocked goody bag, medal and can of Adnams of Southwold Ghost Ship Beer which was well deserved and went down very well after the race.
As already mentioned, I am running a different race in a different county each month and so far have completed the following :
January. Twin Piers 10k in Llandudno Gwynedd
February. Alsager 5 in Cheshire
March. Stafford Half in Staffordshire
April. Bungay Half in Suffolk
The following races I have entered:
May. Market Drayton 10k in Shropshire
June. Kingham12k ( 40th Anniversary Race) in Oxfordshire
July. Bewl Water 15 miles (British Masters Multi Terrain Championship) East Sussex
August. Kimbolton Half in Cambridgeshire
Sept. New Forest Half in Hampshire
October. Tissington Trail Half in Derbyshire.
Only November and December to arrange!