Race Report: Tony Matthews
Sooty, sausages and strawberry ice pops !
This was my first attempt at running a half marathon so a PB guaranteed and I have to say I thoroughly enjoyed the whole experience.  It was great to see quite a few fellow club members beforehand and your advice was invaluable..thank you.
My overwhelming memories are seeing sooty at the top of Anchor Road, I thought I was hallucinating, a guy passed me in Bentilee with a pound of sausages round his neck (???) and then I had to slow …and well…stop on heartbreak hill to enjoy a strawberry ice pop! The nicest ice pop I have probably ever tasted.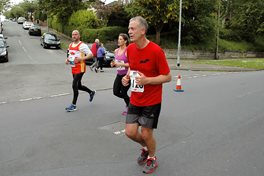 People told me how special the atmosphere would be and it really was. So many people out supporting and I have to say the support from fellow runners also was pretty special too.
My time in the end was 2hrs 4mins, that ice pop probably cost me a bronze medal….oh well, there's always next time. I did raise over £300 for BLESMA ( British Limbless ex Servicemen's association) so all good in the end.