Race Report – Chris Eardley
This year saw the 20th anniversary of the St Michaels 10K in aid of the St Michaels CE first school and the local Girl Guides. Superbly organised by our very own legend Chris Barlow.
The course had chang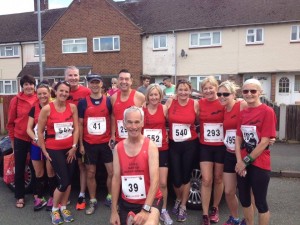 ed slightly with a new start point on Priory Road where we all gathered nervous and excited and still buzzing from Wednesday nights Shugborough relays where we had 2 winning teams in the ultra super vets men and the ladies super vets, who says we are a club for seniors! There is always a concern that a race in June could be really hot but I forgot this is England and flaming June was refreshingly cool, ideal race conditions, so that's one excuse down.
The St Michaels 10K is always eagerly anticipated for those wanting a new PB because of the relatively flat course over two laps and the entry was full with 600 runners huddled together on the start line. We all got off well with a good wide start area everybody could set off at their own pace, that's another excuse I can't use. The bats stick together at first finding their feet until we all find our pace, I started with Paul Philips and Julie McArthur before Paul disappeared into the distance and I settled into a 7 min 30 pace with Julie and I pushing each other.
The course is much the same but the new part along the canal was a nice change before the steep hill of Saxifrage, well it was certainly steeper on my old legs the second time around. The friendly Marshals certainly help get you around, it's a massive help to see a smile and a shout of encouragement. The crowd was lining the streets for most of the way in particular Lichfield road crowd was tremendous. The course was clearly marked with good mile markers and water station for the thirsty.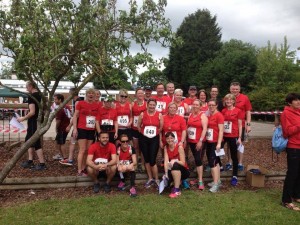 The finish is always a welcome sight but I nearly missed it expecting to go all the way around the field and was surprised when we stopped in the far corner just before I was going to put my sprint finish in and overtake Ben Gamble. In reality it was great to see more bats at the finish taking numbers and handing out promotional leaflets. I was an impressive turn out from the club with members in all the key positions and 25 runners led in by our venerable chairman Tim Hulse in a very impressive 40m 42s and Bill Clarke bringing up the rear shepherding in the excellent beginners. Well done everyone proud I'm to be a Stone master marathoner.