We're pleased to welcome 18 new members over the last Quarter!  It would be great if we could seek them out to make them feel welcome.
This includes 7 who have joined from our Thursday Beginners section (names highlighted in green) and 3 former members rejoining (names highlighted in red).
Read on below
| | |
| --- | --- |
| April  | |
| Jayne | Green |
| Julie | Jeffries |
| Paul  | Newman |
| Kay | Porter |
| Jo | Softley |
| Jane | Capey |
| | |
| May | |
| Laura | Heath |
| Ruth | Machin |
| Dominic | Haigh |
| | |
| June | |
| Tim | Clegg |
| Graham | Moorhouse |
| Amber | Flounders |
| Carrie | Stockley |
| Rosie | Gillick |
| David | Turton |
| Janine | Marczynski |
| Philippa  | Boote |
| Martin | Boote |
Beginners  (by Anne Griffiths)
Thursday night has seen a rise in the number of new runners joining us and we have been delighted to welcome so many beginners. Since April we have had 7 new members and, in that short space of time, we have seen a huge improvement in their running. A particular mention to the following for completing the St Michael's 10K after just a few weeks of training: Julie, Paul, Kay, Jo, Jane, Ruth and Tim. Also to Amber who ran the Westbridge 5 and offered support in the St Michael's 10K by supporting some of the other beginners, despite not being an official entry. Most people joining the beginners group have no intention of racing (let's face it, it's an intimidating prospect) and to see so many brave the start line is a testament to their hard work, commitment and determination. We have several other beginners who are also putting in stellar performances on a Thursday night and are now running up to 5 miles at an ever increasing pace.
Well done to all our new runners; you have worked so hard and it's been a pleasure pounding the streets of Stone with you.
Rose Gillick
Rose is a class runner and has many achievements in her running career; including – running 4 sub 3 hour marathons in a month and setting the course record for the touch Snowdonia Marathon – which stood for many years.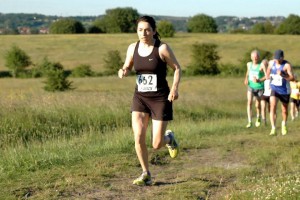 Philippa Boote
Philippa has re-joined us with her husband Martin, and has already raced a few times in the last month as a bat; Shugborough Relays, St Michael's 10k and Berryhill 10k. At St Michels 10K, Philippa won the trophy for the first local Female!
Graham Moorhouse
Graham is a seasoned runner and another who's run a Marathon in Sub 3 hours. His claim to fame is the only club member to have a Wood named after him, "Graham's Wood" was so named in  recognition of his navigation skills (lack of!).  I doubt that many SMM'ers will know the real name of the wood  (Newstead Wood & Newpark Plantation – I think!).