Race report: Paul Phillips
Well what to do ? 5 days to go till my first ever marathon and one of the hottest days of the year.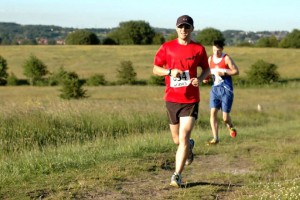 I know lets go and run one of the hillier 10'ks of the NSRRA calendar, should be plenty of points up for grabs as no one is daft enough to run in this heat.
How wrong was I ? 127 runners including 11 Bats strolled to the start line in temperatures hovering around 30oC.
I had done my customary early arrival as I know the parking wasn't the best and met the other early arrival of Anne Marie we pinned our numbers on and went for a vigorous warm up…..well we strolled round one lap of the course eyeing up our competitors in the various groups – as always it seemed every one of my rivals was as daft as me.
At 7.30pm we made our way to the start and bumped into a number of the other Bats and discussed how slow we were going to take it and to just enjoy it – much too hot to run competitively.
However, the race started and I watched the Boote's set of at pace with Martin determined to beat Phillipa after she beat him at St Michaels, I settled into my steady rhythm and watched a number of my 'D' rivals sprinting off.
The course starts with a downhill start then evens out before a grassy climb that keeps on going before an undulating top section where you can see the delights of the city to the left and Bentilee to the right before completing the lap with a downhill finish. The first lap is just under two miles with the 2nd and 3rd lap being a bit longer with a sneaky long path that creeps uphill before re-joining the uphill grassy climb.
I passed the Boote's half way round the first lap with Martin winning the battle as he was about 10 yards in front and left them to continue round whilst I started reeling in my group D rivals whilst chatting to old friends about the forthcoming marathon on Sunday. There was a lot of red faces and the heat was draining but we all kept plodding around and dreaming of a cold beer.
As I got round to the final lap I passed a few of the Bats who were struggling on with Anne Griffiths contemplating pulling out, but much to her credit Anne carried on determined to finish.
I crossed the line in about 47 minutes which I was more than happy with and managed to pass lots of my rivals in the last mile to get my highest point total of the NSRRA season so far. Grabbed a bottle of water and then stood at the finish line to cheer my colleagues in.
Phillipa and Martin were not far behind locked in a sprint finish with Phillipa pipping Martin at the post with a big grin on her face. Alex Yendole and Anne Marie soon followed with the ever young Joyce finishing in just over 63 minutes to win her F65 group yet again (Well Done Joyce).
Amber Flounders running her first 10k for the club cruised over the line looking full of energy in about 68 minutes and then the troublesome trio of Emma Dutton, Marian Humphreys and Bill (not last in for the club tonight) Clarke clocked 73 minutes.
Last but certainly not least Anne Griffiths in a self-proclaimed PW bought the evening to a close.
Another great turn out for the club at an extremely challenging 10k in the heat (my Garmin clocking 27oC at the end of the night), but a successful run and well done to everyone who competed.
Bring on the Potts Marathon !!!