Race report: Paul Phillips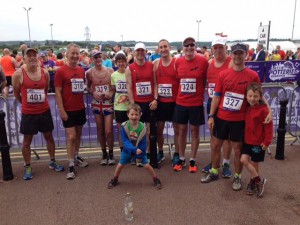 With the Potteries Marathon making a return after 10+ years I decided to make it my debut marathon. When I started running about 3 years ago I had no intention of running a marathon as it seemed such a long way and with a young family I would never fit in the training required.
However, after almost 3 years with SMM I signed up and started running more often with Bernie's Sunday morning ramble's around the Staffordshire countryside and training began.
Not long after I signed up the support from fellow runners began , well laughing when I mentioned it was my first and lots of tales about the heat, the hills and how difficult it was. Thanks everyone just what I needed to hear !!!
The day arrived, I didn't think I had done enough training (does anyone) but cometh the hour !
Got the kit ready and then jumped in the car with the family and made my way to the home of football – Britannia Stadium, I don't normally allow Nicola and the boys to come and watch me race as I get a tad nervous, but friends of ours were also running and they were going to spend a few hours at a local park before supporting us at the finish.
We met  all the Bats and had our group photo, with my boys photobombing the shot and then after a round of good lucks we made our way onto the start area with the other 1000 or so runners.
At 9.30am we started my debut marathon and made our way off the Britannia Stadium car park and down towards Trentham road, a nice flat easy start to find our rhythm – this wasn't so bad only 25 miles to go !
We made our way up towards Longton Park, chatting with the other runners, recognising faces from the facebook chats over the past few months and fellow NSRRA racers all after points as we thought 'No-one else from our group is daft enough to run this", wrong as always lots of Group D runners on show.
As we passed Longton Park some fellow Bats were there cheering us along and Mike Keeling taking photos, at least at mile 3 we could still smile. domain name search engine I had found a nice steady rhythm and plodded along up through Normacot, Bentilee, along past the Crematorium and onto Leek road, covering some of the Potts Arf route  and soaking up the support and making the most of the water stations along the way. It was quite warm and muggy but not the scorching temperatures I had heard all about (I am sure it was probably only hot once but memories get fuzzed with some of these old Bats!!).
As we got to the top of Leek New Road it was about half way and I was well on target to break the 4 hours I would ideally like and feeling good – there had been plenty of hills but nothing I wasn't expecting but knew the second half was likely to be a lot more challenging, so a few deep breaths and off we went towards Burslem (I think – not a part of the Potteries I am familiar with).
Up through Burslem and then down past Middleport Pottery and under the A500 trying to avoid banging the head on the low bridge – that said I was starting to think I must have banged my head to agree to run a marathon.
Next came Porthill Bank, I had been told it was a killer so I slowed for a minute or two took on some Jelly Babies and made my way up it at a steady pace but again we go up more hills on a Wednesday night for fun. It did go on for a while and we seemed to keep climbing even after the initial bank and it was about this point the sun decided to make more of an appearance and it felt like it warmed up a few more degrees, even more reason to grab water at every opportunity.
My pace had slowed at this point and the legs were beginning to ache but the head was still ok and was still enjoying the challenge as we dropped into Newcastle (was that the first downhill ?), through the town and then a climb up past the Thistleberry, never noticed this as a hill before but at 18/19 miles it appeared hard work. We then got on to part of the Clayton 10k course round Seabridge lane, and at this point I had ran further than ever before and knew I only had a 10k to run (easier said than done).
After Clayton we made our way back towards the A34 and the infamous 'Avenue' – mile 23 and a hill that seemed to go for forever followed by Lodge Road which went on even longer and steeper – whose idea was it to put them at the end ? But we had come this far so plod up the hills safe in the knowledge it must be the last one before we go down James Street and back to the Brit.
The legs were aching, the sun was shining and I had given up looking at the watch as it was irrelevant the aim was to finish – so taking in the support, drinking the water and eating the jelly babies on offer we got to the top of James Street and rolled down – it was hard work on the knees but I think a hump back bridge would have been by this point!
It was then a meander around streets until we came back to the A500, up and over the bridge and dropped down to the incinerator and 400 meters to go up the path to the Britannia – another climb, 200 metres to go round the corner and a steep climb to the finish – but you could now see the support lining the finishing straight and it spurred you up the climb for the finish. I heard my family shouting and then Ben my youngest ducked under the tape and grabbed my hand – and made me sprint to the finish (Thanks for that Ben !!!!).
3hr 48 minutes !!!!!
I found the nearest chair, sat down before I fell down and drank lots of water whilst Nicola, Matthew and Ben checked I was okay. After 5 minutes or so I managed to recover and go and find the Bats who had finished already where we passed around a few congratulations.
Unfortunately I had to rush off then as we had to find our friends who were coming back for lunch (7 kids in total – would I rather have been in the Exchange with everyone else….take a guess.)
Someone asked me within 10 minutes of finishing if I enjoyed it and I didn't say no – I am not sure I got the feeling of immense satisfaction others talk about but the more I look back the more I realise 26.2 miles is a very long way and I can't really believe I completed it.
It was an experience, thanks to the people of Stoke on Trent for the support, the marshalls and organisers for putting on a great event and lastly thanks to Stone Master Marathoners for the support and encouragement since I have joined the club – it really is a great running club with a great set of people who make running fun!