Race report – Margaret Shaw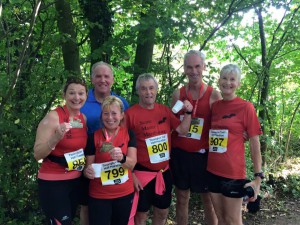 When Richard mentioned this half marathon to me saying that it was pretty well all down hill I thought that has to be good. It was everything I enjoyed, off road but a good track,scenic and down hill! We entered very early as apparently it is very popular (I wonder why?) and limited to 400. This race is run on the Saturday and on the Sunday, so we opted for the Sunday.
The race runs from Parsley Hay Cycle Centre to Ashbourne down the old disused railway line, finishing at the Leisure Centre where there are changing and showering facilities. The route takes you from Parsley Hay(which is over 1000 ft) to Hurdlow, Hartington, Ruby Wood, Alsop-en-le-Dale, Tissington, Thorpe Station and Mapleton Lane. The Leisure Centre at Ashbourne is also the race headquarters. Buses take you from the Centre to the start at Parsley Hay.
The morning of the race arrives, the weather promises sunshine and temperatures good for running. We arrive at 8.00am and there were plenty of spaces for parking. We met with Julia Dando and some of our friends from Drayton so time soon passed and we were on the buses by 9.15 on our way to the start. We had a lovely scenic journey and were pleasantly surprised to see approximately 10 hot air balloons. At Parsley Hay there were plenty of toilets with a cafe and shop to buy hot drinks if you needed one. Julia was soon tucking into a hot chocolate (could this be the reason for her 10min PB!).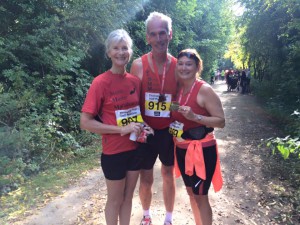 Whilst we were waiting I suddenly spotted Ann Griffiths her husband David and Bill Clarke. It was great to see them increasing our club numbers to six. As we waited we were warned to keep to the left and not wear headphones as we would be sharing the trail with cyclists and horses. As expected there were those who still wore headphones and a cyclist ran into one of them as they did not hear his warning bell. No one hurt but yet another instance in support of no headphones.
It was chilly at the start and therefore wearing a Tee Shirt or bin bag was recommended. Discarded Tee shirts were taken to the finish line for collection. We were also set off in  waves of approx 25 in order to prevent bottlenecks and to be helpful to others using the trail. This worked well.
As we set off the sun peeped through and we soon warmed up. Julia and I ran together for the first 8 miles keeping a good steady pace and it was great to have such good company. The scenery was breathtaking, changing from panoramic views to woodland and vice versa. The trail was excellent to run on, not too rocky, and yes it was definitely predominately down hill. It was a gradual downward gradient with plateaus. Do not think WOW, that must have been an easy run!! It was not! Picture yourself running at your quicker pace, nonstop for 13.1 miles. No nice hills to change pace. It is relentless. But yes PBs are on the cards. Your legs will also tell you they have been running downhill and quads will scream the next day.
Oh, one more thing, there was one short, steep hill, up to the finish! This is the result of a viaduct being removed when the railway closed down. This produced downward then upward slopes of 130ft with gradient 1:9 each.
A brilliant day. Richard took Male Vet 65 with a time of 1.48.06 and Julia Dando had a tremendous PB of 10mins. Would I do it again? Yes. https://www.stonemm.co.uk/2015/10/09/tissington-trail-half-marathon-sunday-4th-october-2015/ https://www.stonemm.co.uk/2015/10/09/tissington-trail-half-marathon-sunday-4th-october-2015/Richard & I have already entered next year Sunday 9th October and hope other bats will join us especially as we have found a good eating venue at Denstone Farm Shop/Cafe for lunch en route home. It has been given the thumbs up by our little group of runners on Sunday.
Chip Times
Richard Shaw 1.48.06
Margaret Shaw 2.06.04
Julia Dando 2.08.35
David Griffiths 2.17.39
Ann Griffiths 2.22.25
Bill Clark 2.22.25