Race report: Anne-Marie Mountford
I'd entered this race sometime last year as it was one that I had not done or heard of before. After Paris I'd made a real effort to get some hill training in on long runs knowing that it wouldn't be long before it was race day. They certainly paid off as I was able to go into the race feeling, not confident as that's not me but not scared!
Buxton's reputation certainly goes a long way and everyone that I spoke to remarked me about the killer first 3 miles up hill. Now there lay a quandary "to warm up or not to warm up". We got there in plenty of time to allow for number and t-shirt collection, the usual 40 toilet trips and then a possible little jog to loosen the legs for the ascent. It was so lovely in the gardens that I really didn't want to leave it. Thankfully I bumped into Bryan Dale and Ann who told me that the first mile wasn't too bad and although it was a gentle pull it allowed you to get into a stride before the first hill.
We all stood on the corner of the Opera House waiting for the start. The weather was fantastic and I was hoping that it wasn't going to get too hot (flashbacks of Paris in the heat). I bumped into Tim Clegg the only other bat out at Buxton, wished him a good race and then we were off (sorry no time for a very small team photo). I made it my resolve that I would NOT walk a step and didn't care about my pace particularly so no matter what I was getting up those hills. The first 3m takes the route out of Buxton towards Leek and in the distance all the way up you could see runners. The only way to deal with this is to not look at where you are heading for but to keep you head down and try to think of other things. At the top I looked at my watch thinking this can't be the end to it unless my mileage is off and sure enough there's a bit more waiting for you around the corner to climb. It really wasn't as bad as I'd expected and then there were the downhills to enjoy. We snaked down, round and sometimes up through lanes and over cattle grids (covered with mats) and it was so lovely and picturesque.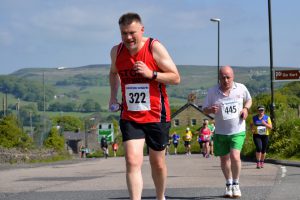 It felt as though we were back on the Coast to Coast run again. At 4m I got chatting to another runner and our thoughts turned to the next ascent at 7m which was another 1.5m of climb. He'd heard that it was awful but I was working on the basis that the first part, which I'd survived, was the worst. At the foot of the hill we stopped talking and the climb began. It must have been the massive block of chocolate that I had yesterday that kept me going because I got up there without any problems. The views from here were well worth the effort and you're then treated to a lovely downhill past the cement factory. Everyone that I'd passed on the uphill seemed to glide effortlessly past me on the downhill – can some please help me with this as I just don't have the technique! The mile from 9 to 10 was probably the most difficult as was quite boring and I noticed that lots of people were now walking but not me, Lynne Shepley would have been well proud of me. Just the last climb to do and whilst I was wondering where it was I realised that I'd probably just done it, so the hill work had paid off. At the top of this hill we then weaved down through back streets until wow you were entering the back of the Pavillion Gardens. It was really nice running down here with the sound of people having fun in the park and yay I spotted the 400m to go sign then double yay I spotted my son, then joy of joys I saw the rest of the family and I was so quick that there was no time for a photo. I finished feeling fresh, satisfied and happy, today was all about getting round and that's what I did in a time of 2:04:30. I would absolutely do it again and would recommend it to anyone but you've got to do the hills in training. Tim finished with 2:23:10 which was impressive as he'd not run for a fortnight due to illness – well done Tim!
It was then time to get stuck into the picnic that I'd prepared and we even called in to Tittesworth for an ice cream on the way home – happy days.